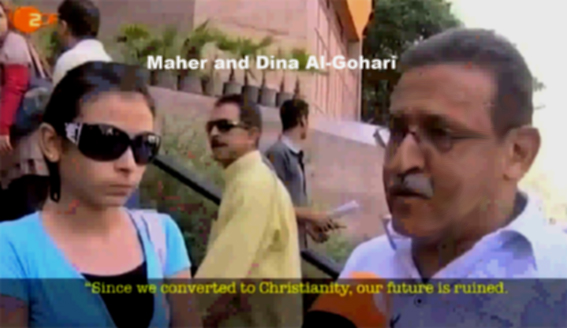 The latest in a string of failed attempts by Muslim fanatics on the life of Egyptian Muslim-born Maher el-Gowhary who publicly converted to Christianity in 2008, took place on Sunday July 5, 2010.
As 57-year-old Maher left his secret lodging, somewhere in metropolitan Cairo with his lawyer, two unknown men on a motorbike, attacked him with daggers. "They were aiming at my neck to behead me," said Maher in an interview with the newly launched US-based Hope Coptic TV Channel. "Something inspired me to turn and give them my shoulder, instead of facing them, which was lucky."
He said that he fell to the ground covered in blood. "Had it not been for the interference of passers-by who were unaware of my identity and my efforts to quickly stand up and defend myself, I would have been dead by now," he said.
During the attack, one of the men shouted the Islamic Jihadi cry of "Allah is Great," while stabbing him. The attackers called him an infidel, and cursed his Christian faith. Maher said that he was left with heavy wounds, however, he fears seeking medical treatment.
He condemned the negative attitude of the Egyptian authorities and held responsible for the attempts made on his life the religious leaders who call for the killing of others "just for being non-Muslims."
Shortly after his conversion to Christianity became public, Maher and his 15-year-old daughter Dina, who also converted to Christianity, were forced into hiding. They have been living on the run, changing lodging as frequent as once or twice a month for fear of their identity being discovered. The Fatwa issued by Sheikh Youssef El-Badri calling for the 'shedding of his blood," caused them to live in constant danger in the face of the reactionaries and advocates for the enforcement of Islamic apostasy laws, which call for the death of a convert.
"We live in constant fear ever since radical shaikhs have called for my blood to be shed because I left Islam. We are mostly afraid of the uneducated people on the street," Maher said in an interview last week on ZDF German TV. He added that ever since he openly made known his Christian faith, "our future is ruined. We are discriminated against, I do not believe that we will receive justice." (.http://www.youtube.com/watch?v=MrjqyUQn3_s)
Maher el-Gowhary or Peter Athanasius as he is now called, became acquainted with Christianity through a Coptic Christian room mate when he was a young cadet at the police academy. He converted secretly to Christianity 36 years ago. He married a Muslim woman, the mother of his daughter Dina, who divorced him when she gave up hope that he will give up Christianity. Dina chose to live 'on the run' with her Christian father, rather than her Muslim mother.
In August 2008, he filed the second ever lawsuit of a Muslim-born against the Egyptian Government to officially alter his identification documents to reflect his new Christian identity. He lost the case on June 13, 2009. According to the Court ruling, the religious conversion of a Muslim is against Islamic law and poses a threat to the "Public Order" in Egypt. Although the verdict is on appeal, he said this usually takes years before being brought to the courts.
After losing his court case, Maher and Dina tried to leave Egypt, however, they were barred from leaving Egypt and their passports seized at Cairo Airport on September 17, 2009 without any legal reasons. They were told that the order came from a higher authority. Although officially their first destination would have been 'a holiday in China' they planned to travel afterwards and seek asylum in the United States. Maher later filed a lawsuit to gain the right to leave Egypt and have their passports returned.
Dina became known after she wrote to President Obama asking for help. It was reported that the el-Gowharys met with the US Committee on International Religious Freedom on their last visit to Egypt in January 2010, and that they have asked for asylum in the United States (Fox News video
http://www.youtube.com/watch?v=USlI07s9l1k&feature=related.
On March 9, 2010, the administrative court, refused to return Maher and Dina's passports. During a second hearing on June 29, his lawyers fought with each other leading to the judge adjourning the hearing until November 9. "I am so sad,"he said. "Five months postponement is a lifetime for us, the way we live."
In September 2008, a failed attempt on the life of Maher and another well-known convert to Christianity Mohamad Hegazy was carried out; they were shot at and had to run and seek refuge in the subway station. Young Dina was subjected to an acid attack in April 2010, however, she also escaped unharmed.
Dr. Ibrahim Habib, head of the United Copts of England believes that Maher's case should be internationalized, "the State has failed to protect a citizen and has deprived him from his fundamental right of freedom of religion," he said. "The State has also been party to radicalising the people. Now that Shaikh Youssef El-Badri has issued a Fatwa for the shedding of his blood, the government is responsible for his and his daughter's safety."
Feeling cornered with all the state agencies against him, Maher commented on the latest attempt made on his life saying:" What do I do if I am threatened with death in my own country? I am afraid to go to the police, because instead of getting my rights I may get arrested instead, since I am considered an Apostate."