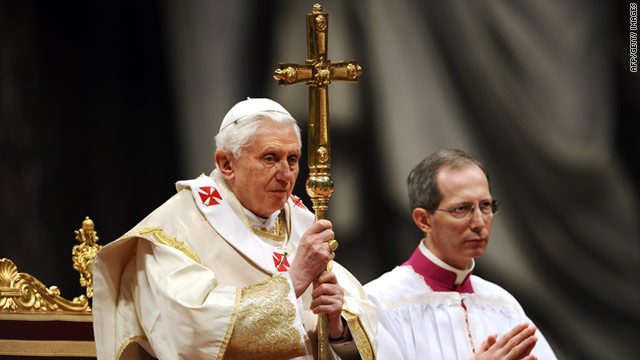 (CNN) -- Pope Benedict XVI spoke out Saturday against a recent wave of religious attacks against Christians and rallied worshippers not to "cave into depression and resignation," hours after a bomb explosion outside a church in Egypt killed 21 people.
During his New Year's Day homily titled, "Religious Freedom, the road to peace," Benedict asked followers and governments to join efforts in combating religious persecution.
"Mankind cannot resign himself to the negative forces of egoism and violence," the pontiff said, adding that governments must show a willingness to combat violence.
"For this difficult task, words are not enough, there must be a concrete and constant effort from leaders of nations," he said.
"Above all, it is necessary that each person is driven by the authentic spirit of peace, always imploring over and again in prayer," he said.
Saturday's bombing targeted Coptic Christians in the city of Alexandria. FULL STORY
The attack follows other recent attacks in Iraq and Nigeria.
"In front of the current threatening tensions, in front of specially the discrimination tyranny and religious intolerance, that today hit in particular the Christians, once again I deliver the pressing invite to not cave into the depression and resignation," Benedict said.
In November, a group with ties to al Qaeda in Iraq announced that all Christians in the Middle East would be "legitimate targets."
Some Christians in Iraq's capital say they are considering leaving their homes following a wave of bombings in December that targeted members of their religion. Two people were killed and 16 others wounded in the blasts.
The bloodiest attack on Christians in Iraq took place in Baghdad in October, when militants stormed the Our Lady of Salvation Church, killing 70 people and injuring 75 others.
The violence has prompted a "slow but steady exodus" of thousands of Christians from Baghdad and Mosul, the U.N. refugee agency said recently.
And in Nigeria, at least 31 people were killed -- many of them Christian -- during a series of seven blasts on Christmas Eve in the city of Jos.