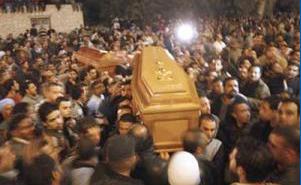 ALEXANDRIA - A solemn funeral was held Saturday evening in the coastal city of Alexandria for 21 Christians killed in a car explosion outside a church in the city half an hour after the stroke of midnight on Friday.
The funeral, attended by relatives and friends of the victims, was held amid tight security measures.
Senior Christian clerics and officials from the Government attended the funeral hours after President Hosni Mubarak sternly warned that Egypt would track down the planners and perpetrators of the attack.
Mubarak delegated Mufeed Shehab, the Minister of State for Parliamentary Affairs, to attend the funeral.