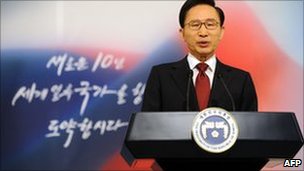 South Korean President Lee Myung-bak has said the door is open to new dialogue with North Korea.
However, the North should abandon its "military adventurism" first, he said.
Seoul would respond strongly to any threat against "an inch of our territory", he said, but with sincerity, progress could be made.
Mr Lee's New Year's speech on Monday came two days after Pyongyang delivered a mixed message of openness to talks and increased military posture.
The US envoy responsible for policy toward North Korea, Stephen Bosworth, is scheduled to visit Seoul on Tuesday before going on to China and Japan.
The US envoy for nuclear talks with the North, Sung Kim, will accompany him to Seoul and Beijing.
'Stern responses'
The past year has been tense on the Korean peninsula, with the alleged torpedoing of a South Korean warship by the North in March, and the North's shelling of the South Korean island of Yeonpyeong.
That attack on 23 November, the first on a civilian area since the 1950-53 Korean War, was a defining moment for South Korea, said Mr Lee.
"The situation before and after the provocation against Yeonpyeong Island cannot be the same," Mr Lee said.
"Any provocation that would pose a threat to our lives and property will not be tolerated. Such provocations will be met with stern, strong responses.
"The shelling of Yeonpyeong Island also served as an opportunity for us to reflect on our security readiness and overhaul our defence posture.
"There cannot be any delay in establishing security measures," he said.
Four South Koreans were killed, including civilians, and the damage to ordinary people's homes drove home the reality of the threat behind the regular exchanges of words between North and South.
Mr Lee had been criticised for responding weakly to the shelling, but he has since replaced the defence minister, and overseen huge new military exercises with the United States.
After months of refusing to countenance any talks until the North apologised for March's warship incident - in which 46 South Korean sailors died - Mr Lee first hinted at a possibility of talks six days ago.
"If the North exhibits sincerity, we have both the will and the plan to drastically enhance economic cooperation together with the international community," he said in his latest speech.
"The North must come to the realisation that nothing can be gained through military adventurism.... Nuclear weapons and military adventurism must be discarded."
"I remind the North that the path to peace is still open. The door for dialogue is still open," he added.
The two Koreas remain technically at war, since no peace treaty was signed after the 1950-53 Korean conflict.
The six-party talks which involved aid for North Korea in return for progress in dismantling its nuclear programme, fell apart in April 2009 after the US and South Korea criticised a North Korean nuclear test.