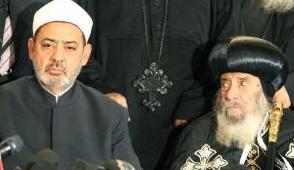 CAIRO - Egyptian authorities Sunday tightened security around churches across the nation in the wake of a suicide bombing outside a church in Alexandria that killed 21 people and injured nearly 100.
The measure came as dozens of grieving worshippers returned to pray in the blood-spattered Al-Qiddissein (The Two Saints) Church, while hundreds of other Christians protested in several parts of the nation against the blast.
"The Interior Ministry deployed more police and undercover agents. They were all heavily armed," a security official said. He added that checkpoints were set up outside all provinces and cars were being prevented from parking near churches.
Seven people were held for questioning over the New Year's Day bombing as 10 others were released, according to media reports.
Shortly after midnight Friday, a suicide bomber detonated his nail-packed bomb outside the church in the northern city of Alexandria where hundreds were attending a New Year's Eve service.
"The police investigation into the bombing is focusing on a local group of Islamic hardliners that is inspired by al-Qaeda," a security official said on condition of anonymity.
He added that investigators were examining lists of passengers, who arrived recently from Iraq, where the local al-Qaeda offshoot threatened Egyptian Christians last November.
Grieving Christian women wept and urged God to "avenge" their dead as they gathered yesterday at the bloodied church. "God avenge our martyrs," several women pleaded out loud.
"God burn their hearts," they said in reference to those who carried out the bombing blamed by Egyptian authorities on foreign elements.
A painting of Jesus Christ stained with blood was placed against the gate of the church and a bloodied white cloth, which had been used to carry the dead from the attack was strung on the iron railings.
Huge numbers of policemen in riot gear were deployed around the church and a mosque across the street since Saturday to contain the anger of Christians.
President Hosni Mubarak said the attack bore the hallmark of "foreign hands", and the Interior Ministry also blamed "foreign elements" euphemisms which point to Islamist militants such as al-Qaeda loyalists.
Sheikh of Al-Azhar Ahmed el-Tayyeb, Minister of Waqfs Hamdi Zaqzouq and the Republic's Mufti Ali Gomaa yesterday offered their condolences in the Cairo Diocese to Pope Sehnouda III, the head of Egypt's Orthodox Church.
"Such attacks were very strange to Egyptians, Muslims and Copts, who have lived for 14 centuries in peaceful co-existence," said el-Tayyeb.
Shenouda urged Copts to have self-control. "All State authorities are confronting such crimes," he said.
Earlier in the day, el-Tayyeb launched a commission of Muslim and Christian clerics, to have a joint voice for both Al-Azhar and the Egyptian church.
"An 'Egyptian Family Home' is a commission of Muslim and Christian leaders that will be established within two weeks to focus on tolerance of Islam and Christianity," el-Tayyeb explained.
He added that the main task of this commission would be removing all reasons for sectarian tensions on both sides.
After their meeting with Shenouda, the convoy of the Muslim leaders were harassed by some angry Copts protesting inside and outside the church.
Meanwhile, el-Tayyeb slammed as 'unacceptable intervention' remarks by Pope Benedict, who urged local leaders to protect Christians against attacks that target them only.
"This is unacceptable intervention in Egypt's affairs. I do disagree with the Pope in this respect. I wonder why he did not ask for Muslims to be protected when they were killed in Iraq," el-Tayyeb said.
Pope Benedict condemned the bomb blast outside the Alexandria church in Egypt, urging local leaders to commit to protecting Christians. The Pope also urged Christian communities to persevere in a non-violent manner in the face of what he described as "a strategy of violence that has Christians as a target".
Hundreds of Egyptians participated in a demonstration to condemn those responsible for the blast. The marchers, who included some 500 Muslim and Coptic activists, politicians and other leaders, protested outside the Nile-side Foreign Ministry in Cairo.
Marchers shouted slogans and carried banners showing the Crescent and a Cross, which have been a historical symbol of unity between Egyptian Muslims and Coptic Christians.
The marchers were soon surrounded by police who feared clashes might erupt between protesters and angry Coptic residents of the area.
Protests were also staged outside the Bar Association in central Cairo and in some churches in Upper Egypt. However, no clashes were reported.