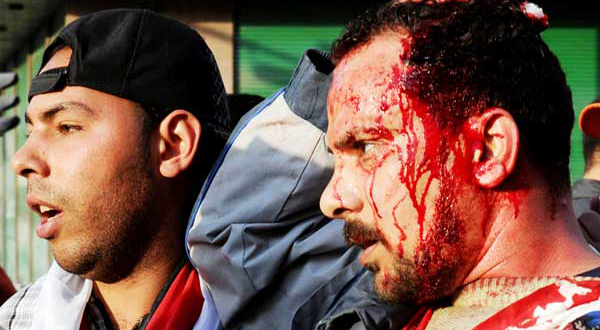 CAIRO: Six were killed and over 800 injured after clashes erupted on Wednesday between pro and anti-Mubarak supporters in Tahrir Square, according to the Ministry of Health.
The ministry added that the injuries range from severe wounds to fractions and superficial injuries.
Aisha Hussein, a volunteer field nurse in Tahrir Square disagreed, saying that 2,755 injured people have been reported since clashes erupted on Wednesday including 10 gun shot wounds.
Hussein reported that one of the protesters was severely wounded in the head due to a gunshot.
Mohamed Ahmed, a volunteer field doctor in Tahrir Square, said that the number of casualties since Wednesday's clashes is at least 6 and the injuries amount to more than 1,000.
Ahmed said that most of the injuries were head wounds as a result of pro-Mubarak supporters throwing sticks, rocks, knives and even shooting bullets from building rooftops onto people in Tahrir Square.
Ahmed added that many of the wounded suffered from severe injuries and concussions.
After several days of peaceful protests in Tahrir Square, clashes erupted on Wednesday as pro-Mubarak protesters took to the streets for the first time since Jan. 25, following Mubarak's speech late on Tuesday.
Pro-Mubarak groups stormed into Tahrir Square on camels and horses attacking anti-Mubarak protestors with Molotov cocktails, knifes, sticks, rocks and guns.
Anti-Mubarak demonstrators, who initially refused to engage in violence, responded by throwing rocks and other projectiles in self defense, eventually driving their attackers out of the square.