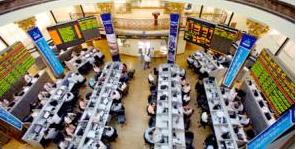 CAIRO - Egypt's stock exchange will not reopen on Monday, as previously announced, and a decision has yet to be taken on when it will resume business,Egypt's official Middle East News Agency (MENA) said on Saturday.
Khaled Serri, head of the exchange, was quoted as saying that the bourse would remain shut on Sunday and Monday, as anti-government protests have continued on a daily basis since January 25.
The date for "resuming operations of the stock exchange has not been determined yet," he said, adding that it would depend on developments.
Serri said 48 hours notice would be given before trading resumes. The bourse was last open on January 27 when it closed down nearly 10 percent as the protests against President Hosni Mubarak picked up momentum.
The decision to postpone the reopening of the bourse was taken after consultations with its management, with Egypt's financial supervisory authority and representatives of traders and brokers, Serri said.
"Extraordinary measures aimed at supporting the performance of the stock market" will be announced before reopening, he said, adding that such measures were being discussed with trading parties.
He appeared to hint at measures aimed at avoiding a crash in the market, but did not disclose details.
In another announcement, MENA said that banks will reopen on Sunday, and will be operating between 10:00 am and 01:30 pm.
The central bank had earlier put a cash limit on daily personal withdrawals from banks to 50,000 Egyptian pounds, or 10,000 dollars, MENA said.