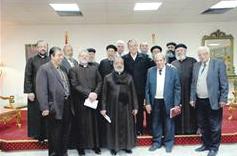 Muslim and Christian leaders in Assiut issued a joint statement to curb the circulation of sectarian rumors in the Upper Egyptian governorate.
The statement, signed by five Coptic church leaders and seven Gamaa Islamiya leaders, condemned the killing of Dawoud Botros, pastor of the Prince Tadros church in Shatb village. They called for the killers to be brought to justice.
The statement warned against people who want to damage Egypt's revolution and urged both Muslim and Christian youth to listen to the voice of reason and respect religion.
Christian leaders representing various sects in Assiut, meanwhile, issued a statement criticizing acts that threaten national unity. A delegation of 15 Christian leaders submitted the statement to Governor Nabil al-Ezabi.
It highlighted the outcome of the 25 January revolution and asked young people not to take part in protests in which slogans contradicting the teachings of religion are used. It emphasized how important it is for those of different faiths to respect each other.
The Armed Forces has intensified its presence in Assiut following protests condemning the killing of the pastor in his apartment. Leaflets were distributed in the city calling for protests in front of the governorate headquarters to urge the cancellation of Article 2 of the Constitution, which states that Islam is the main source of legislation.
Upper Egypt has been the site of several incidents of sectarian conflict, most recently the Christmas Eve drive-by shooting in January 2010 which killed six Copts and a Muslim guard in Naga Hammadi.