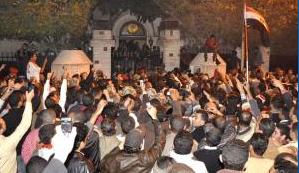 ALEXANDRIA - Officers and employees were evacuated from the headquarters of the state security services in the northern Egyptian city of Alexandria, after overnight clashes involving protesters who had surrounded the building.
State media reported that the armed forces, which have run the country in the wake of president Hosni Mubarak's ouster, ordered people to leave the building.
Hundreds of protesters had surrounded the headquarters on Friday, calling for the agency to be dissolved.
Clashes erupted when officers fired shots in the air to disperse protesters, activists said. Videos posted on the internet showed Molotov cocktails being thrown from the building, and several cars parked nearby destroyed.
A security official was quoted by the state media as saying that reports about officers shooting at protesters were false.
Attorney General Abdel Meguid Mahmoud formed a committee to investigate the incident on Saturday.
The independent daily Al-Masry Al-Youm had reported on Friday that some protesters entered the building, 'where they collected confidential documents dated 2011 and spotted shredded papers.'
It added that protesters handed the documents to the armed forces as they left the building.
Demonstrations were held in both Alexandria and the capital Cairo on Friday, as people called on the military to dissolve the controversial State Security Investigations Service.
The service has been blamed for much of the violence against protesters that left more than 350 people dead earlier this year.