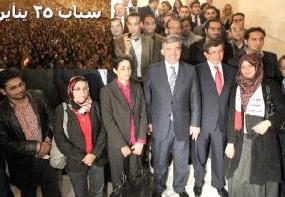 CAIRO - A group of youths who took part in the Egyptian anti-government protests announced Sunday to form a new political party.
The party of youths for change will seek to bring the protesters' demands to reality by a political partisan activity that will back a civil state based on independent and modern institutions, counselor Hamdi Baha el-Din, one of the founders, told Egypt's MENA news agency.
The members will take legal procedures to found the party following the March 19 referendum on the constitutional amendments.
Cairo's High Administrative Court approved on Feb. 19 the first Egyptian party with an Islamic background "Al Wasat," which had been seeking licence since 15 years ago.
Egypt's largest political opposition the Muslim Brotherhood was reportedly preparing to establish a political party named "the Freedom and Justice Party," according to a statement published on its website.