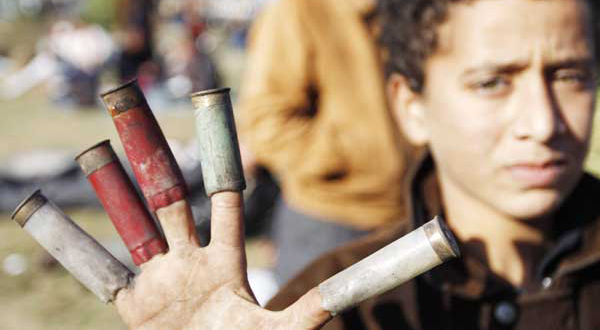 CAIRO: Prosecutor General Abdel-Meguid Mahmoud referred 100 police officers to a criminal court on charges of killing and injuring protesters in the early days of the uprising that ousted former president Hosni Mubarak, press reports said Tuesday.
Separately, police directorate chiefs of Qaliubiya and Giza will stand trial for similar charges. They have also been accused of being responsible for the absence of security and negligence in securing police locations which led to a number of police stations set ablaze.
Anti-regime protests saw violent clashes between security forces and demonstrators, leaving more than 680 dead and over 6,000 injured, some seriously, according to rights groups and official reports.
Meanwhile, former interior minister Habib El-Adly will face the first trial hearing on April 24 before a criminal court on charges of premeditated murder of protesters, attempted murder of others as well as inflicting major damages to public and private property which had a negative impact on the economy.
"We as lawyers believe that Article 235 of the criminal code will be applied on the officers found guilty, which gives both the perpetrator and the accessory to murder the same punishment," said Taha Abul Nasr, lawyer at Hisham Mubarak Law Center.
"In some cases, there are eye witnesses proving that a certain officer for example opened fire and accordingly we file a complaint against this person," Abul-Nasr told Daily News Egypt.
"In the cases of protesters shot by unidentified snipers, it is quite hard to know the perpetrator. So we add such files to the bigger one of El-Adly's," he added.
El-Adly denied during interrogation that police forces used live ammunition to disperse protesters.
El-Adly's alleged acts and orders caused a security vacuum, disturbing public security, threatening citizens and endangering their lives and safety, since the night of Jan. 28, dubbed the "Friday of Anger."
On that day, police dealt violently with protesters which led to clashes between the two sides that forced security forces to eventually step back. Forces were later ordered to retreat completely, leaving the streets of Cairo and other governorates for weeks with almost no police presence. Dozens of suspects and inmates escaped prisons across the country on the following days.
The armed forces took over and a curfew was imposed on Jan. 28.
Several thefts and acts of thuggery were committed across Egypt, which led citizens to form popular committees to protect the streets and buildings at night for weeks.
Earlier this week, three police officers in Suez were referred to a criminal court over charges opening fire at protesters.
The first Egyptian to die in the protests was from Suez, Mostafa Ragab Mohamed, shot dead on the night of Jan. 25.