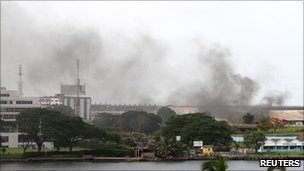 Heavy fighting is taking place in Ivory Coast's main city, Abidjan, for a third day as rival forces battle for power.
Fighters loyal to internationally-recognised president Alassane Ouattara battled for control of the presidential palace and barracks still loyal to incumbent Laurent Gbagbo.
Mr Gbagbo's whereabouts are unknown.
In the country's west, at least 800 people are reported to have been killed earlier this week in Duekoue as a result of inter-communal violence.
The battle for Abidjan remains fierce, with heavy fighting reported on Saturday around the Agban military base in the centre of the city.
But the situation inside the city is unclear, with some reports that soldiers defending the base were fighting amongst themselves.
State television station RTI, appears to be back under the control of Gbagbo supporters after being briefly seized by their rivals.
One soldier, accompanied by a dozen members of Mr Gbagbo's Defence and Security Forces (FDS), read a statement on the channel calling for the mobilisation of troops to protect state institutions.
"The FDS, wishing to reaffirm their determination, to ensure their sovereign duty to protect people, property and institutions of the Republic of Ivory Coast" calls for "all the staff of the armed forces" to join five units located in Abidjan.
Residents of Abidjan say they are too afraid to leave their homes as the fighting continues. Many report running out of food, with all shops closed and widespread looting.
The BBC's Valerie Bony in Abidjan says: "In all districts of Abidjan there is sporadic gunfire. There is a lot of looting going in the city, for example on Boulevard Valery Giscard d'Estaing, where shops and houses have been looted by youths who are taking advantage of the situation."
She also says young, pro-Gbagbo supporters in several districts of Abdidjan have been armed by pro-Gbagbo supporters, according to witnesses.
Mr Ouattara was internationally recognised as president after winning a run-off vote in November, but Mr Gbagbo also claimed victory and refused to leave office.
Duekoue 'massacre'
Staff of the International Committee of the Red Cross (ICRC), who visited the western city of Duekoue, said the scale and brutality of the killings were shocking.
The city was captured by fighters supporting Mr Ouattara this week and has seen fierce fighting.
Aid agencies have warned repeatedly that civilians were being subjected to major violence.
The ICRC said delegates and volunteers from the Ivorian Red Cross had visited the city on Thursday and Friday to gather evidence of the killings, which are believed to have taken place on Tuesday.
Tens of thousands of women, men and children had fled fighting in Duekoue since Monday, they said.
It is not clear whether Mr Ouattara's forces were involved in the killings.
The United Nations human rights office says it has received reports of major human rights violations committed by both sides in the conflict.
West Africa's second biggest economy has been brought to its knees by the conflict, which has sent global cocoa prices spiralling upwards. Ivory Coast is the world's largest cocoa producer.