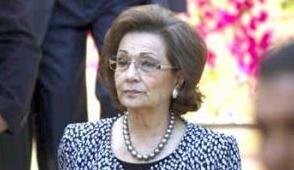 CAIRO, Egypt (Updated 1) - The wife of ousted Egyptian president Hosni Mubarak, who had been held on corruption charges, was released on Tuesday after handing over her assets to the state, the justice ministry's Illicit Gains Authority said.
The department, which ordered Suzanne Mubarak's detention on Friday, "has decided to release her after she handed over to the state money held in two bank accounts in Egypt, amounting to 24 million pounds," (around 4 million dollars), a statement said.
Suzanne Mubarak was being held under arrest in a hospital in the Red Sea resort of Sharm el-Sheikh, along with her husband, both accused of abusing their position to acquire wealth illegally.
The former president is also under investigation for having possibly ordered the shooting of anti-regime protesters.