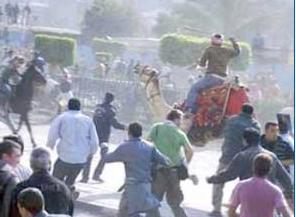 CAIRO - An Egyptian court condemned a policeman to death on Sunday for killing 20 protesters, in the first such sentencing of a security forces member for the murder of demonstrators during a January-February revolt.
Mohamed el-Sonni was found guilty of having shot dead "at random" 20 demonstrators and wounding 15 others to fend off a raid on a police station on January 28, one of the bloodiest days of the revolt.
The court asked the mufti of the republic, Ali Gomaa, who is tasked with interpreting Islamic law for Egypt's government, to confirm the sentence as required by Egyptian law.
According to an official toll, 846 people were killed and thousands injured in the uprising which toppled president Hosni Mubarak on February 11.