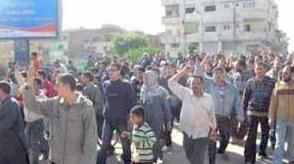 Hundreds of Egyptians in the Mediterranean Sea town of protested outsied el-Arish on Wednesday the North Sinai Governorate offices against rampant lawlessness.
Many armed men, from el-Fawakhria, one of the biggest tribes in the el-Arish, blocked the International Road passing the city, and shot in air expressing their fury over kidnappings and car thefts, according to eyewitnesses.
Protests were triggered by the kidnap of three men from el-Fawakhria by aanother desert tribe, said the witnesses.
Blaming the incident on the absence of security, members of el-Fawakhria blocked the road into and out of el-Arish, declaring it a "closed city," they added.
Contacts are underway between officials of a "sovereign authorities" in North Sinai and chieftains of el-Fawakhria to defuse the crisis and re-open the road, a security source told dpa.