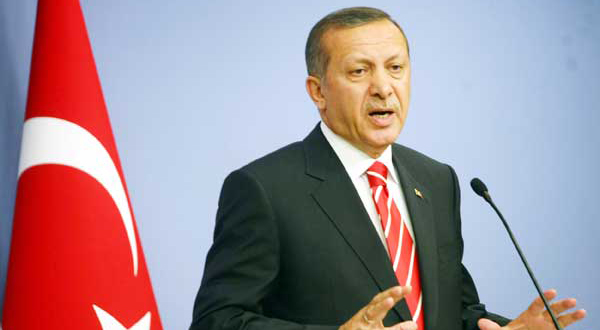 CAIRO: Turkish Prime Minister Recep Tayyip Erdogan Monday kicks off an 'Arab Spring' tour in Egypt, where a diplomatic flurry is underway ahead of a Palestinian push to win UN statehood and as Israel's regional ties hit a new low.
Palestinian president Mahmoud Abbas is also visiting Cairo to attend an Arab League meeting later Monday and for talks with EU foreign policy chief Catherine Ashton who stopped in Egypt on her way to Israel.
Erdogan will also visit Tunisia and Libya, where popular uprisings such as that in Egypt have toppled long-standing autocratic regimes, as he bids to forge stronger ties with Arab nations as Ankara's relations with Israel sour.
Turkey has expelled the Israeli ambassador over the storming by Israeli naval commandos last year of a convoy of ships trying to reach Gaza in defiance of the blockade, killing nine Turks.
Egypt's relations with Israel also worsened, with protesters ransacking the Jewish state's embassy in Cairo on the weekend forcing the ambassador to flee after the killing of six Egyptian policemen on their common border last month as Israel hunted militants after a deadly attack.
The Palestinians' determination to push for UN membership has triggered wide concerns in Israel, where Defense Minister Ehud Barak on Sunday called for the 15-member inner security cabinet to convene for a debate on Israel's complex regional relations.
A strong supporter of the Palestinian cause, Erdogan arrives late Monday in Cairo and the next day he will address a ministerial meeting of the Arab League and hold talks with top Egyptian officials aimed at boosting ties.
State television said Abbas and Ashton arrived separately in Cairo and quoted top Palestinian official Nabil Shaath saying that the diplomatic flurry was a "positive" sign for the UN membership bid.
Monday evening Abbas will attend a special Arab League committee meeting devoted to the Palestinian-Israeli crisis, just days before heading to New York to seek UN membership for Palestine.
Abbas is expected to submit a formal request on September 20 for the United Nations to accept Palestine as its 194th member.
Washington said it would veto any bid to the Security Council, arguing that a Palestinian state should be set up only through negotiations.
If that happens the Palestinians say they will turn to the General Assembly, where they expect to easily win votes to upgrade their representation from observer body to non-member state.
Abbas told a Jordanian newspaper the Palestinians will bid for UN membership "despite the obstacles and dangers, including US threats to halt $470 million in annual assistance."
For his part Shaath told Egyptian state television the Palestinians were coordinating with the Arabs and expect to garner "more than 160 votes" in favor of the UN membership bid at the General Assembly.
"We will continue to knock on the door until we get (full) membership," for Palestine at the United Nations, he said when asked about a US veto at the Security Council.
Ashton met Egyptian Foreign Minister Mohammed Kamel Amr and was lunching Monday with Arab League chief Nabil El-Araby ahead of talks with Abbas and then travels to Israel, officials said.
"What we're very clear about from the European Union is that the way forward is negotiations," EU foreign policy chief told reporters after meeting Amr.
She said the EU wants to see "the people of Palestine and the people of Israel living side by side in peace and security."
Abbas has already received indirect support from UN Secretary General Ban Ki-moon who Friday said Palestinian statehood was "long overdue" but the European Union remains divided.
German Foreign Minister Guido Westerwelle has urged Abbas to tread carefully in his UN bid, warning that such a strategy could ultimately harm peace efforts, a statement from his office said Monday.
"With a view to a possible Palestinian request to the UN, the decisive question was what would serve the peace process and what would hamper it," the statement said as Westerwelle was to begin a visit to Israel.
At talks in Poland earlier this month EU foreign ministers urged both Israel and the Palestinians to return to direct peace talks while offering to take a lead role in hammering out a solution acceptable to all sides.
"Our idea is to work to find the grounds for a resolution that would be acceptable to the different parties," said French Foreign Minister Alain Juppe.
Erdogan is much admired on the Arab street due to his strong challenge to the Jewish state and his government is a fervent supporter of the Palestinian UN bid.
He renewed his criticism of Israel in an interview with the Egyptian newspaper Al-Shorouk published on Monday.
"Israel has become a spoiled child... Not only does it practice state terrorism against the Palestinians, but it also started to act irresponsibly," he said.
"Israel does not want to admit its mistakes or that the world around it has changed," he added.
Turkey and Egypt are due to sign a "declaration of strategic cooperation," during Erdogan's first visit to Cairo since the former president Hosni Mubarak was ousted by a popular uprising in February, the government daily Al-Ahram newspaper reported Monday, quoting Egypt's envoy to Ankara.