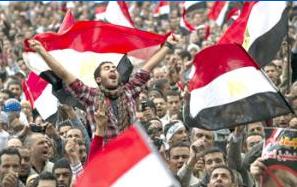 CAIRO – Egypt's activists and political powers on Thursday called for a one million man march on Friday afternoon, lasting until 6pm, but not for a sit-in, the official Middle East News Agency reports.
The march, to be held in Tahrir Square and other main squares nationwide, will be launched under the slogan, 'No to the Emergency Law'.
Haitham el-Khateeb, a member of the executive office at the Union of Revolution Youth, told a press conference held at Al-Ghad Party's premises in Cairo on Thursday that Friday's demonstrations will start after Friday prayers.
"The organising group is not responsible for anything that might happen outside Tahrir Square," he added, stressing that the group will form committees for securing the Square. "They will use dialogue to deal with any chaos or disorder."
El-Khateeb's colleague Amr Hamed urged participants to avoid a repeat of last Friday's security chaos.
Participants in the conference distributed a statement in which they emphasised that, on September 30, they will launch another one million man march calling for retrieving the nation's wealth, if the revolution's demands have not been met.