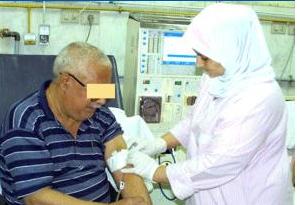 CAIRO - ASIDE from the political and financial charges facing the toppled president and members of his corrupted regime, some people are calling for questioning Mubarak over the health disaster that has hit Egyptians, putting them at the top of the world's list of people suffering from liver cancer and diabetes.
"Mubarak's regime should be questioned for the crime they committed against Egyptians' health," said Dr Alaa Eddin Ibrahim, professor of liver diseases at Benha University's School of Medicine.
He noted that the catastrophe started, when the Government had a campaign to treat Bilharzia by injections, when the same syringes were used on more than one patient.
This practice led to the spread of infectious liver diseases, especially the hepatitis C virus that, together with Bilharzia, has caused liver cancer cases to rise in number in this country.
Endorsing Dr Eddin Ibrahim's words, professor of liver diseases in Al-Azhar University's Faculty of medicine, Dr Adel el-Rakeeb warns of a national health catastrophe caused by the wide spread of hepatitis C virus among the Egyptians, most of whom discover the infection by mere accident.
This can happen, for example, on doing medical tests ahead of getting a work visa for a Gulf state or when serious indications and symptoms of the disease present themselves.
"Herein, the patient would have reached an advanced stage of the disease that requires huge sums of money for treatment with a very low rate of survival," Dr Rakeeb told Radio and TV Arabic magazine.
He added that the Egyptians are a people that resort to the doctor only when pain reaches an unbearable level. We know nothing about periodical check-ups nor routine tests that should be conducted regularly, by which doctors could have saved patients, even if suffering from cancer, through its early detection.
Dr el-Rakeeb also attributes the spread of liver cancer to the carcinogenic wheat that the former regime continued to import and provided to the Egyptians to eat in the form of subsidised bread.
Meanwhile, Dr Inas Shaltout, professor of diabetes in Cairo University's Qasr el-Ainy Faculty of Medicine, has warned of the spread of Diabetes type 2 among the Egyptians, infecting around eight million persons. She says that this is due to citizens' wide dependence on fast food along with the increasing rate of obesity, both of which represent risk factors of heart diseases.
The World Health Organisation (WHO) has recently warned that diabetes is turning into an epidemic due to being so widespread in the world. It is also one of four non-infectious diseases that cause 50 per cent of deaths in the world.
Dr Gamal Shaaban, cardiac professor at the National Heart Institute has cautioned that the Egyptian nation is in danger because of ousted regime followed wrong health, economic and agriculture polices.
These culminated in an unprecedented rise in the incidence of different diseases such as heart ailments that afflict more than eight million citizens while around 25 per cent of the Egyptian people suffer from high blood pressure. This health problems contribute to the economic crisis because most of the patients are at working age and their ill health affects national production.
"It is enough to know that serious diseases such as angina and coronary artery affect Egyptians at the age of 10, lower than in other nations, which is attributed to the widespread disease of diabetes and incidence of hypertension."
Dr Shaaban cautioned that heart diseases have become the principal cause of death in Egypt: "47 per cent of deaths are caused by heart diseases while the rate was no more than 12.5 per cent n 1970."
Dr Salah el-Messidi, a professor of cancer diseases, presents an even darker picture in suspecting the data given on the number of patients suffering from different diseases. He explains that his suspicions are aroused by "the non-existence of a trusted data base in this country with all the figures given being mere assumptions while the facts are always worse."
Dr el-Messidi noted, "Cancer diseases have become a chronic problem with some 100,000 cases of cancer being diagnosed every year, which situation exceeds the ability of the Ministry of Health to deal with it, especially with the ministry's limited budget and the high percentage of poor patients." He believes that carcinogenic pesticides used in agriculture are the main culprits.
In addition, professor of chest diseases in Al-Azhar University Dr Mohamed Sedqi focused on the high rate of lung cancer in Cairo and other large Egytian cities that is 20 per cent higher than the median world rate.
"This is one of the many shortcomings of the former regime that allowed very old vehicles to run in Cairo streets causing the emission of many elements polluting the air."
Dr Sedqi noted that the chest diseases of the Egyptians cost the state some LE five billion per year while just LE one billion could be spent on changing these vehicle, especially public means of transport that could substantially solve the problem.