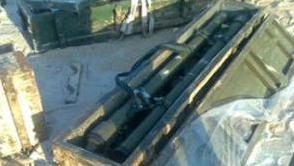 CAIRO – Egypt's Police and Armed Forces in Ismailia have seized four boxes containing eight anti-aircraft surface-to-air missiles and three empty boxes that probably included RPGs missiles, www.egynews.net reported on Sunday.
It was reported that the arrested items were to be smuggled to Sinai across the Suez Canal.
Security forces found the items behind New Abu Khalifa Hospital on Port said-Ismailia International Road, a few kilometers from the Suez Canal, according to Ad-Dustour Newspaper on Sunday.
Senior officials at Ismailia Security Department rushed to the location to check the items after being informed by workers at a nearby gypsum plant that they had come across suspicious boxes.
The entire area is being combed by army and police officers in search of clues that might lead to further information.