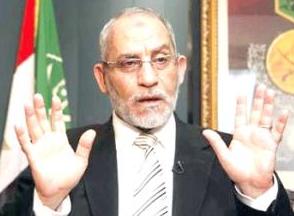 CAIRO - The credibility of Egypt's first elections since the overthrow of Hosni Mubarak was thrown into question Thursday after a coalition led by the Islamist Muslim Brotherhood threatened a boycott.
A statement late Wednesday by the Democratic Coalition said its members would not stand in November's legislative elections if a controversial article in the new electoral law was not amended.
They objected to Article Five of the electoral law, which bans political parties from running in a third of the seats in parliament, which are reserved for independent candidates.
The measure has already been rejected by more than two dozen political parties, who object that it could help return old regime figures to parliament.
"We refuse to take part in elections if Article Five of the electoral law is not cancelled," said the Democratic Coalition statement.
The coalition comprises more than two dozen groups, including the Muslim Brotherhood's Freedom and Justice Party and the liberal Wafd party.
Egypt's interim military rulers – the Supreme Council of the Armed Forces – announced on Tuesday that the first stage of parliamentary elections would be held on November 28.
But in an amendment to the electoral law, it said two-thirds of parliament would be elected through a party list under the proportional representation system.
The rest would be elected through a simple majority, which only independent candidates would be allowed to contest.
The Democratic Coalition said they were "astonished" at the Supreme Council's position.
They had, it argued, "refused the request of the political forces to elect all members of parliament by the closed, proportional lists system."
Under Article Five, it argued, a third of the seats would be exclusively for "independents and candidates from the old regime."
The Democratic Coalition and many other political parties have already called for a pure proportional representation system.
They also want to see the activation of a law that would ban corrupt politicians from running for office.
Under the old system, hundreds of candidates ran as independents if they did not make it onto Mubarak's National Democratic Party lists, only to join the party after winning seats.
Under Mubarak, independents affiliated with his party used patronage or pressure to garner votes, something that the proportional list system would help avoid, the parties say.
Article Five of the new electoral law specifically forbids those elected as independents from joining a parliamentary bloc once elected -- on pain of losing their seats.
The military had promised that it would not conduct the election under a state of emergency, which was widened in scope this month after protesters ransacked the Israeli embassy in Cairo and clashed with police.
The controversial emergency law – which has been continuously in place since Islamists assassinated president Anwar Sadat in 1981 – had been regularly extended under Mubarak's regime.
A military official has told state media the emergency law could stay in place until mid-2012, although the military wanted to end the state of emergency as soon as possible.
US Secretary of State Hillary Clinton said Wednesday she hoped Egypt would lift its emergency law before June 2012, speaking at a press conference in Washington with Egyptian Foreign Minister Mohammed Kamel Amr.
"We hope to see the law lifted sooner than that (2012) because we think that is an important step to the way to the rule of law," she said after the two top diplomats met for the first time.
But she added that Washington supported the steps Egypt has taken toward democratic elections following Mubarak's overthrow in February.
Dozens of parties, ranging from hardline Islamist to liberal, have sprung up after Mubarak's resignation on February 11.
One of the parties granted official status by a government committee was founded by Hossam Badrawi, the last secretary general of Mubarak's National Democratic Party. Badrawi resigned a day before Mubarak stepped down.