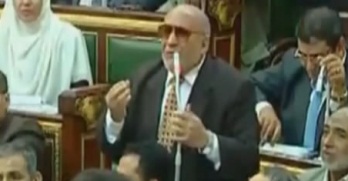 Jurist and MP Mahmoud al-Khudairi expressed his fears and displeasure of stealing the revolution by the remnants of the former regime, calling for passing the law of "Political Isolation" to protect the revolution as well as Egypt.
He wondered during his speech yesterday in a session of the Parliament: what if the rebels kill Mubarak and Omar Suleiman like the rebels of Libya killed Gaddafi? We are having a revolution and exceptional circumstances.
If Suleiman becomes the president, Egypt will be occupied by USA and Israel. Prisons will be reopened again for all of us. He who will be put in prison will be lucky as the others will be killed outside. Because Suleiman used to be the man of Mubarak.