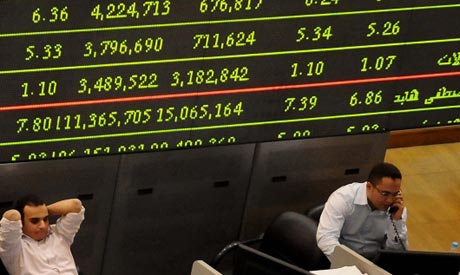 Egyptian stocks edged into the green on Tuesday after news of a foreign telecoms deal stoked buying interest, hit in recent days by political uncertainties.
The benchmark EGX30 closed up 0.05 per cent at 5,715.3 points, after spending much of the session in the red, boosted by a surge in sales for Orascom Telecom Media and Technology that sent overall turnover to LE567.267 million ($92.955m).
Shares in the OMT saw the day's heaviest trade -- some LE88.96 million -- following news that France Telecom is to pay it $142 million to take over a management services contract for mobile services operator Mobinil.
OTMT shares leapt 5.66 per cent to close at LE0.58 per share, while Mobinil climbed 4.66 per cent.
Gainers and losers were evenly split on Tuesday. From the 173 stocks traded, 72 rose in value and the same number declined.
Lower-cap stocks saw better performances, tracked in the broader-based EGX70 which gained 1.06 per cent.
Market heavyweights charted mixed performances. Shares in investment bank EFG-Hermes dropped 0.99 per cent despite news that Egypt's financial watchdog had approved the bank's decision for a tie up with Qatar-based QInvest.
Commercial International Bank gained 0.59 per cent, while real estate developers SODIC were up 1.17 per cent.
Their gains, however, were balanced by losses for Palm Hills Development, down 0.77 per cent, and Egypt's largest listed firm Orascom Construction Industries, which lost 1.08 per cent.
Institutional investors were behind two-thirds of the day's trade, with Egyptians the day's major sellers. Local investors sold LE65.96 million more in stocks than they bought. Non-Arab foreigners, by contrast, bought a net LE36.8m.