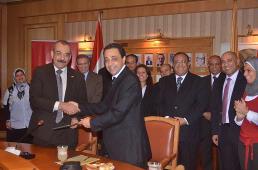 McDonald's Egypt signed a cooperation agreement with Helwan University to apply the Education Exchange program within the faculty of Tourism and Hotel Management that provide McDonald's employees the opportunity to complete their studies and obtain a Bachelors in restaurant operations and management. McDonald's will provide 50% of the tuition, while the remaining amount will be deducted from the employee's monthly salary over 8 months to alleviate the financial burden.
The signing ceremony was held in the presence of Alaa Fathi, McDonald's Egypt General Manager, Sherif Coutry, McDonald's Egypt Marketing Director, Lobna El Nahas, Training Director and Essam Reda, Operations Director. The event was also attended by Dr. Yasser Sakr, President of Helwan University, Dr. Maged Negm, Vice President of Helwan University, Dr. Hossam Elrefaei, Dean of the Tourism Faculty and Dr. Khaled Elanany, Deputy Head of the Tourism Faculty.
Alaa Fathi, McDonald's Egypt General Manager, stated, "McDonald's Egypt's strategy is to ensure that it's employees acquire the best resources and tools which will help them advance their careers at McDonald's or anywhere else in the future. This agreement comes as part of McDonald's strategy and also of its belief in the importance of the Education Exchange concept in light of the challenges and obstacles that Egypt faces in terms of education."
The signing of the agreement comes within the framework of McDonald's Egypt's social responsibility and its commitment to developing the capabilities of thousands of the people who are part of McDonald's, as well as developing the concept of Education Exchange through cooperation between universities and organizations.