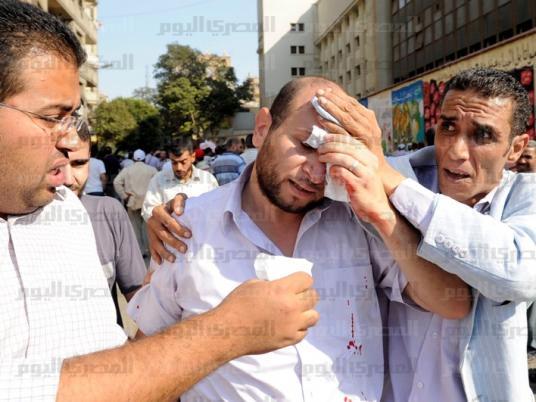 A senior Muslim Brotherhood leader on Wednesday vowed that the group would not go to Friday's demonstration against President Mohamed Morsy to avoid clashes like those that took place last Friday.
Hundreds of pro- and anti-Morsy protesters were injured last Friday in the violence.
The demonstration was originally called for in September to criticize Morsy's performance in his first 100 days, but the Brotherhood decided a day before to protest the acquittals issued in the Battle of the Camel case on the same day.
"[The coming protest] would be exclusively for the opponents of the president," said Helmi al-Gazzar of the group's Shura Council. "I hope it would be a civilized one, for such is democracy."
Political and revolutionary movements called for Friday's demonstration under the title of "Egypt for all Egyptians" to demand a constitution that represents the whole of society, retribution for the martyrs of the revolution, and social justice.
In a joint statement, they said the demonstration sends the message that Egypt is not for the Muslim Brotherhood alone.
The statement also said that had it not been for the alliance of national forces, there would not be a president, but his group now abuses power and silences it opponents just as Mubarak did. These national forces will never be suppressed again, it added.
The Popular Current, the Constitution Party, the Socialist Popular Alliance Party, the Egyptian Democratic Party, the April 6 Youth Movement, the Revolution Continues Youth Movement, the Freedom Movement, the Maadi Rebels Union, the Workers and Farmers Party, and the Popular Committees for the Defense of the Revolution have announced that they will participate in the protest.