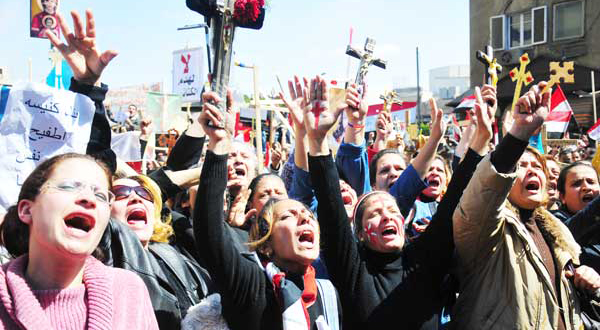 CAIRO: Military authorities running Egypt and representatives of Christian Copts demonstrating in central Cairo held talks on Thursday amid concerns over growing insecurity after deadly religious clashes.
"A dialogue has started between a group of young Copts and priests with the leaders of the army, over demonstrators' claims in order to put an end to the sit-in," state television announced.
Copts continued protesting Friday morning in front of the state television building, Maspero, denouncing sectarian violence and demanding the rebuilding of a church burned down earlier in the week.
Thousands of Muslims and Christians had joined the protest by the afternoon, which had sprawled outside the Mapsero premises as protesters filled up a significant portion of the Corniche.
Christian protesters complained of discrimination and said they feel disenfranchised. One young man who works as a waiter said Copts in Egypt have no political representation.
He told Daily News Egypt, "We're not asking for wage increases," referring to sector protests which have been blamed for disrupting business activity and harming the economy.
"We're asking to have a voice in our country, for freedom of expression and to build churches freely," he said.
He added that the Christian community is concerned about the wording of Article 2 of the constitution, suggesting that instead of relying solely on Sharia it could be amended to use Islamic jurisprudence as a reference point, in turn becoming more inclusive of other religious beliefs.
Article 2 stipulates that Islam is the religion of the state and that Islamic jurisprudence is the principal source of legislation.
Bloody fighting erupted late on Tuesday in the working class Cairo district of Moqattam when Muslims confronted 1,000 Christians who had been blocking a main road in protest at the burning of a church last week.
The health ministry said 13 people were killed in the clashes, and Father Boutros Roshdy of the Moqattam church said at least seven Coptic Christians were among the dead.
More than 1,000 Copts continued days of demonstrations on Thursday outside state television headquarters in Cairo to demand the rebuilding of a church torched south of the capital last week in clashes sparked by a romantic liaison between a young Christian and Muslim.
The fathers of the Copt and the Muslim were killed in the clashes last Friday, and the church was razed the following day.
The demonstrators, brandishing crucifixes and banners which condemned the church burning, also called for the sacking of the governor of Helwan province, where the incidents happened.
Meanwhile Egypt's youth coalition, which sparked the revolt that forced strongman Hosni Mubarak to step down on February 11, called on its Facebook page for a peaceful demonstration in Tahrir Square on Friday for "national unity" between Egyptians.
The group urges people to "prevent any attempt to provoke dissent or chaos."
Attackers armed with knives and machetes waded into hundreds of pro-democracy activists in the square on Wednesday.
The violence, widely blamed on remnants of Mubarak's regime, revealed the security vacuum created by police, who disappeared from the streets during January protests that led to Mubarak's resignation. –Additional reporting by Daily News Egypt's Heba Elkayal