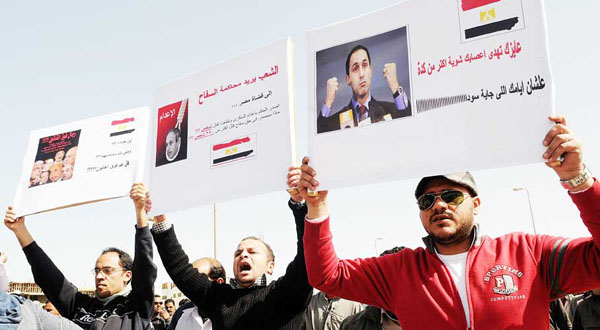 CAIRO: Former Interior Minister Al-Habib Al-Adly was remanded in custody Thursday for 15 days pending investigation into charges of ordering security forces to open fire at peaceful protesters during the demonstrations that toppled the regime.
The prosecutor interrogated Al-Adly for the second time on Thursday and confronted him with the evidence gathered during the investigation, the official spokesman for the general prosecution Adel Saeid was quoted by the state Middle East News Agency (MENA) as saying.
Anti-regime protests that broke out on Jan. 25 and continued for 18 days till former president Hosni Mubarak stepped down witnessed violent clashes between security forces and demonstrators, and left more than 600 dead and over 6,000 injured, according to rights groups.
"[Human rights] lawyers have been documenting cases of murder of protesters, presenting every finalized file before the prosecutor general," said Gamal Eid, director of Arabic Network for Human Rights Information.
"These complaints are added to the case and investigated one by one," Eid, also a lawyer and a member of the Front to Defend Egypt's Protesters, told Daily News Egypt.
Eid called on the authorities to speed up the process of interrogation and investigation so that Al-Adly and his aids do not get away with the charges against them.
The lawyer alleged that some police officers have exerted pressure and intimidated the families of the killed protesters to drop charges against Al-Adly and other officials.
"We haven't yet announced these accounts; [we won't] until we document them and have enough proof," Eid said.
"Many of the families are afraid to report these threats," he added.
Al-Adly has been charged with the premeditated murder of protesters, the attempted murder of others as well as inflicting major damages to public and private property which had a negative impact on the economy.
Al-Adly's alleged acts and orders caused a security vacuum, disturbing public security, threatening citizens and endangering their lives and safety, since the night of Jan. 28, dubbed the "Day of Rage."
On that day, police dealt violently with protesters which led to clashes between the two sides that forced the security forces to step back.
The forces were later ordered to retreat completely, leaving the streets of Cairo and other governorates for weeks with almost no police presence as dozens of suspects and inmates escaped prisons all over the country in the following days.
Several thefts and acts of thuggery were committed across Egypt, which led citizens to form popular committees to protect the streets and buildings at night for weeks.
Al-Adly claimed during interrogation that he was called upon by ruling National Democratic Party (NDP) leaders and businessmen to stir disturbance in the country in order to distract protesters and force them to go home.
He added that he received instructions from a prominent NDP leader to disperse the protests at all costs.
The investigation into the accusations against Al-Adly and his aides is still underway.
Earlier last week, the public prosecution ordered the arrest of four former Ministry of Interior officials over the same charges.
A security official said the four high-ranking officers were being prosecuted because they were "in charge of those who pulled the trigger."
Alexandria's prosecution office also ordered the arrest of three police officers for allegedly opening fire on protesters, killing and injuring many of them.
A few days before he was appointed interior minister in Prime Minister Essam Sharaf's caretaker government, Mansour El-Essawy said in a televised interview that Al-Adly could have never ordered security forces to shoot protesters without the president's knowledge.
In later interrogations, Al-Adly denied that he instructed the anti-riot police to use live rounds against protesters, pointing the finger of blame to his aides.
Al-Adly said that he was available at his office on Jan. 25 – 28 and made decisions based on his assistants' reports.
He said that he instructed them to deal with the situation they way they saw right.
"I don't think policemen would shoot a single bullet without a prior order from their commanders … who in turn received their orders from the … minister," El-Essawy said.
On Jan. 29, eye witnesses said that snipers on the roof of the interior ministry headquarters in Lazoughly, Downtown Cairo, opened fire at protesters who gathered outside the building.
Al-Adly had previously been charged with money laundering and unlawful acquisition of public funds. He will face the second trial hearing on April 2.