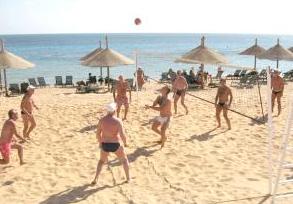 CAIRO - First groups of Russian tourists will go to Egypt's resorts of Hurghada and Sharm el-Sheikh Saturday after a break caused by the situation in that country, sources from the Association of Russian Tour Operators reported.
The air service to Egypt will be restored in full in about two or three weeks, the sources said.
Late in January the Russian Foreign Ministry recommended Russian nationals to refrain from trips to Egypt, while those already holidaying were asked to use the existing opportunities and return back home.
About 40,000 tourists from Russia left Egypt within two weeks then.
On Thursday, the Russian Foreign Ministry changed recommendations for Russian tourists going to Egypt, and advised them to visit only resorts of Hurghada and Sharm el-Sheikh, Russian Foreign Ministry spokesman Alexander Lukashevich said.
"Our analysis has shown that the situation on the Red Sea resorts, in Hurghada and Sharm el-Sheikh, has normalised," the spokesman stressed. Moscow recommends Russian tourists to exercise vigilance and refrain from trips to other cities," Lukashevich added.
Lukashevich also urged Russian tourists not to make individual tours to these zones, but travel in a group, as well as to buy tours from reliable tourism agencies put on the federal registry.
"A state of emergency is in place in Egypt, and we recommend taking into consideration all these factors and be very attentive," he added.
The diplomat also said that the consular department and Russian diplomatic missions abroad 'are ready to render all necessary consular assistance within the framework of their authorities'.
According to the director general of the Pegas Touristik tour operator, Anna Podgornaya, it is expected that one plane with tourists booking tours from her company will fly to Hurghada Saturday, while another plane will fly to Sharm el-Sheikh.
Both planes have 220 seats, and only a few seats are vacant. "At the present moment we are sending planes only from Moscow," Podgornaya said.
Other tour operators are also planning flights to Egypt within the next few days. The Tez Tour company resumes its flight programme to Egyptian resorts. The company expects that starting from April 15, flights to those two resorts will be daily.
According to tour operators, the cost of tours will remain standard for this season within the next few weeks: 500 to 700 dollars. However, they don't rule out that the cost of tours will rise by about 20 per cent in May.
The executive director of the Association of Russian Tour Operators, Maya Lomidze, believes the flow of tourists to Egypt "will be restored rather quickly".
According to the Association analysts, if the prices grow insignificantly, about two million Russian tourists will be able to holiday in that country this year. Last year, 2.8 million Russians spent their holidays in Egypt.