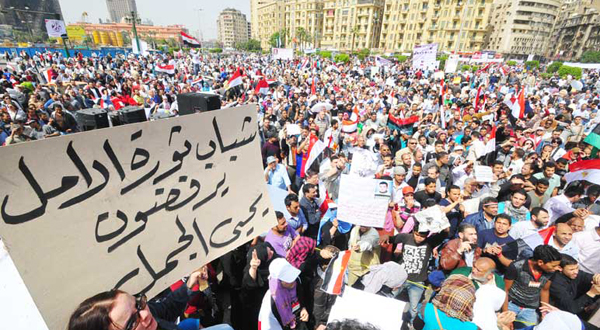 CAIRO: Protesters in the tens of thousands filled Cairo's Tahrir Square on Friday, with simultaneous protests in Alexandria, demanding the trial of ousted president Mubarak and his family and calling to "Save the Revolution."
Protesters are demanding Mubarak be tried for corruption and the killing of peaceful protestors during the 18-day popular revolt that toppled the regime that began on January 25.
Friday's demonstration, called for by a number of groups including the Revolution Youth Coalition and the National Association for Change, also demanded the trial of officials of the former regime and National Democratic Party (NDP) figures such as Fathi Sorour, Safwat El-Sharif and Zakaria Azmy.
"We came here to complete our revolution by bringing corrupt figures to court, to fully remove the regime by discharging governors and disbanding local councils," said Amr Masoud, a physician.
In Alexandria, thousands of Egyptians outside Al-Qa'ed Ibrahim mosque in downtown Alexandria also demanded swift trials of officials implicated in corruption cases.
After Friday prayers, Alexandrians marched along the Corniche, hindering traffic as they chanted in unison on what was dubbed the "million man march to save the revolution."
"We're here to continue our revolution," 30-year-old Sarah Ahmed told Daily News Egypt. "Why the ridiculous delay in the trial of those under arrest? [Habib] El-Adly, [Zoheir] Garranah, [Ahmed] Ezz? And why are Safwat El-Sherif, Fathi Sorour and Zakaria Azmy still free men?"
In Tahrir, a mock public trial held for Mubarak and his family during the protest was adjourned until next Friday in order for Mubarak to appear in "court" to defend himself. If he fails to do so, a verdict will be issued in absentia after which protesters will take their demonstration to Sharm El-Sheikh, where the ousted president is currently under house arrest.
The trial's judicial committee comprised counselor Mahmoud Al-Khodeiry and prominent lawyers Essam Al-Islamboly and Abdel Aziz Al-Sharqawy, while the public prosecution was represented by Mohamed Al-Damaty, head of the freedom's committee at the Lawyers' Syndicate.
Al-Damaty accused Mubarak of stealing public money and lands, exporting gas to Israel, attempting to end the revolution using violence and failing to manage Egypt's foreign relations, namely with Nile Basin countries
Lawyer Osama Al-Sheshtawy was supposed to represent Mubarak but protesters refused and chanted against him.
Demands also included releasing all political prisoners, investigating allegations of army torture of protesters, discharging heads of universities and the cleansing of state-owned media as well as canceling a law criminalizing protests, sit-ins and strikes.
"This protest does not [aim] to destabilize the country, we feel that the revolution is going in the wrong direction and we want to eradicate corruption and remind the army and the government of our demands," said Ahmed Hassan, a student.
He demanded the disbanding of the NDP and banning its members from participating in politics for a period of time.
Protesters said if demands are not met by next Friday, they will start a sit-in at the square, the epicenter of the January 25 Revolution which has also been the site of forcible disbandment of previous sit-ins by military police.
Some called for moving protests to Sharm El-Sheikh until Mubarak is prosecuted in a "fair and quick" trial.
"The people want to continue their revolution, they have a belief that some people are working for the failure of the revolution and they are concerned," said presidential candidate, Judge Hesham El-Bastawisi, who joined protesters at the square.
"We demand from the Supreme Council of the Armed Forces to take a pro-revolution stance and heed people's demands," he added.
Head of the Cairo Cassation Court, Zakaria Abdel Aziz, and prominent opposition figures including George Ishaq, coordinator of the Kefaya Movement for Change, as well as journalist Hamdy Qandil participated in the protests.
Protesters refused the candidacy of former army general, Magdy Hatata, for the presidency, declaring him the candidate of the ousted regime.
A number of newly-established parties were distributing membership applications among protestors.
The numbers swelled in Tahrir as protesters marching from mosques in Giza and Old Cairo joined in.
Over 100 protesters were seen carrying Libyan President Muammar Qaddafi's green flags but were forced to leave the square.
Despite the huge numbers in Alexandria, there was a complete lack of military or police presence. Holding hundreds of Egyptian flags, dozens of Libyan flags, posters and signs, the spirit of protesters remained high.
"We are all one hand," they chanted.
"No one is in charge," said 19-year-old university student Ahmed Mohamad, a member of 'Ana Masry' (I am Egyptian) initiative.
"We are all Egyptians here and we're here to say we will continue protesting. We want a free media, we want trials, and we will come every Friday to make sure the counter revolution doesn't brainwash the people."
"I voted yes for the constitutional amendments because they said the military wanted to get the wheel of productivity rolling," Samir Radwan, who sells flags, told DNE. "So why do they keep postponing the trials, they're slowing things down." –Additional reporting from Alexandria by Ethar El-Katatny.