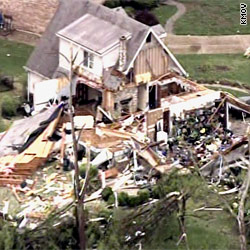 (CNN) -- A storm slashed through metropolitan St. Louis, damaging scores of homes and closing the airport, where planes were rocked or moved by an apparent tornado, authorities said Saturday.
Daybreak gave workers at Lambert-St. Louis International Airport an opportunity to survey the devastation, including smashed windows and roof damage.
The airport was uncertain as to when it may be able to reopen. The nearest major airports are in Kansas City, Missouri, and Chicago.
"It may be an hour by hour situation," said airport spokesman Jeff Lea.
Major damage was evident in nearby communities, including Bridgeton, just west of the airport, but, remarkably, there was no immediate word of serious injuries.
"The path is an absolutely straight line," Garry Earls, chief operating officer for St. Louis County, said of Friday evening's storm.
The swath stretched from Maryland Heights, through Bridgeton, the airport, Berkeley and to the Mississippi River, Earls told CNN. There were nine sightings of a possible tornado or tornadoes in St. Louis County.
About 40,000 homes in the county were without power and five shelters had been established. Major highways were open, but officials advised people to stay home.
Searchers were going door to door in several communities.
"We're looking for the family that may be missing," Earls told CNN.
Inspections of buildings will take several days and hauling off debris will take longer.
"We are doing a second door-to-door search right now," said Bridgeton Police Chief Don Hood. So far, everyone has been accounted for and there were no reported injuries, he said.
Many homes in the town were heavily damaged. Most of the city was without power and some roads were not passable, Hood told CNN shortly before 8 a.m. (9 a.m. Eastern).
Airport officials were relieved that the severe storm Friday evening injured only a relative few passengers.
Five people were taken to hospitals for minor injuries and about a dozen others were treated at the airport for cuts and scrapes after the storm struck around 8:15 p.m. Friday, said Lea.
"It's amazing given the number of people and the amount of damage," he said.
A van was left hanging precariously off the edge of a terminal parking garage. A video posted on YouTube showed strong winds pushing a Southwest Airlines plane away from a walkway and passengers moving quickly away from tall windows, dark clouds moving in.
Federal weather officials referred to the storm as a "tornadic supercell."
"The National Weather Service will be surveying the tornado damage over the weekend to determine the number and intensity of tornadoes that occurred," its St. Louis office said.
Airport director Rhonda Hamm-Niebruegge told CNN affiliate KSDK "we're not going to operate, obviously, until we know it's safe."
Passengers were hit with flying glass and debris as winds ripped off part of the roof in the airport's C concourse, KSDK said.
"All the windows were busted. ...The airport looks like a war zone," Elizabeth Rastberger, 32, told CNN's iReport.
Rastberger said she had been waiting to pick up a friend when the storm hit. After an officer yelled "get downstairs," she took cover in a women's restroom with about 20 others.
"Kids were crying," she said. "A woman had a busted nose. Everyone was too freaked out to talk."
One witness described a chaotic scene outside the terminal as officials evacuated passengers from at least one aircraft.
"The plane was rocking back and forth," said Brett Knewitz of Albuquerque, New Mexico, who was on a plane that was about to take off from the airport when the storm hit.
Initially, officials did not allow evacuated passengers into the airport, he said, because of concerns that the building's roof would collapse.Once he was allowed inside, Knewitz said he saw an injured gate agent.
"She was bleeding like crazy," he said.
About 50 percent of the windows were blown out in the airport's main terminal, Hamm-Niebruegge said. But authorities do not believe any planes were damaged in the storm, she said.
Concourse C is used by American Airlines, AirTran and Cape Air, said Lea.
The National Weather Service said witnesses believe a tornado was on the ground for several miles and observed the twister from a tower at the airport.
Missouri's governor declared a state of emergency Friday night in response to the severe weather. In a statement, his office said tornadoes and high winds "caused significant damages to communities and facilities" across the state.