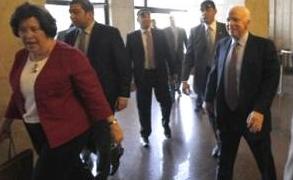 CAIRO - The head of the ruling Supreme Council of the Armed Forces Mohamed Hussein Tantawi met US' senator John McCain on Saturday, the official Middle East News Agency reported.
The meeting focused on the latest developments on the local and regional levels.
They discussed also the ways to help Egypt in the upcoming phase, following its new era after the fall down of Hosni Mubarak.
Senior officials of both sides attended the meeting.