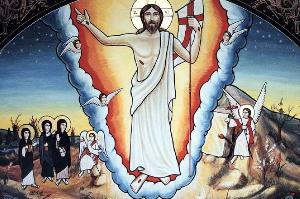 As Christians celebrate the Resurrection of Christ…
Jesus Christ is risen from the dead. He launched a new era, an era of reconciliation and salvation, where the old things are done with and everything becomes new. It is an era in which man is released from retribution, and is consequently able to enjoy peace, happiness, and serenity. The Light of the Resurrection of Christ brings us all these comforting sentiments, and we in turn carry them with us on our long strife in this world, assured of victory and eternal life.
Today, Egypt is living through a phase of change; a new era is obliterating an old one. Every one of us is required to find the niche through which he or she can take part in the incessant change whose features are coming into focus day after day. We can all become positive contributors in the shaping of a future for Egypt to match its glorious past.
I offer my best wishes for a happy Easter to the head of the Coptic Orthodox Church His Holiness Pope Shenouda III and all our honourable archbishops, bishops, pastors and congregations; as well as to the heads, clergy and congregations of all Christian Churches in Egypt.
May the good Lord protect and bless our Church and our homeland during the pivotal phase we are now traversing.