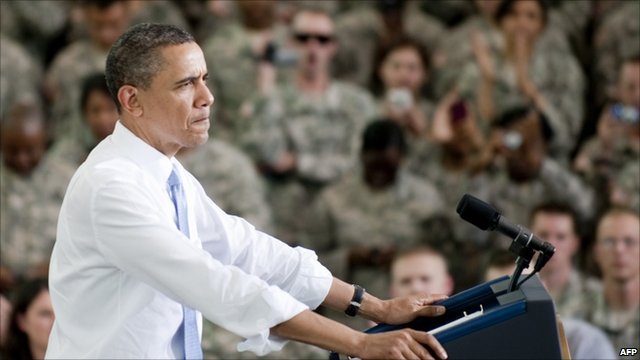 US President Barack Obama has met the military team that killed Osama Bin Laden and praised their mission as "one of the greatest military operations in our nation's history".
He also vowed the US would defeat the al-Qaeda terror network Bin Laden led.
Earlier, al-Qaeda confirmed the death of Bin Laden, according to a statement attributed to the group posted online.
Meanwhile, documents found at Bin Laden's compound suggest al-Qaeda was planning further US attacks.
Officials are examining computers, DVDs, hard drives and documents seized from the Abbottabad home where Bin Laden may have hidden for up to six years.
One planned attack targeted a US rail route, US officials revealed, although no imminent threat was detected.
Raid team meeting
Speaking before cheering troops at Fort Campbell in Kentucky, Mr Obama said: "These Americans deserve credit for one of the greatest military operations in our nation's history."
Referring to the threat from al-Qaeda operatives, he said: "We have cut off their head and we will ultimately defeat them."
Mr Obama's address came after he met the US Navy Seals and Army helicopter pilots involved in the raid in Pakistan, for a first-hand account of events on the ground.
"It was a chance for me to say on behalf of Americans and people around the world 'job well done'," Mr Obama said.
"Thanks to the incredible skill and courage of countless individuals - intelligence, military over many years - the terrorist leader that struck our nation 9/11 will never threaten American again."
But he warned that what he called "a very tough fight" was not over yet.
The BBC's Steve Kingstone, in Washington, says that the White House has tried to limit the fanfare surrounding the killing of Bin Laden.
But this was a testosterone moment before an audience of pumped-up soldiers, our correspondent says.
The statement posted by al-Qaeda on jihadist websites apparently confirming Bin Laden's death said his blood would not be "wasted" and that al-Qaeda would continue to attack the US and its allies.
Several rallies were held in Pakistan on Friday in protest against the US raid, which was carried out without the prior knowledge of the Pakistani authorities.
The Afghan Taliban also issued its own statement on Friday, saying the death of Bin Laden would give "new impetus to the current jihad".
Mr Obama, who was joined on the visit to Fort Campbell by Vice-President Joe Biden, thanked soldiers who had returned from Afghanistan for their military service.
He repeated his intention to draw down US forces in Afghanistan this summer.
'Never forget'
Mr Obama earlier made a stop in Indianapolis, in the state of Indiana, to promote his energy policies and showcase a transmission plant that produces systems for hybrid cars.
On Thursday he visited the site of the World Trade Center, where he met firefighters and police officers who responded to the 9/11 attacks.
"When we say we will never forget, we mean what we say," Mr Obama told firefighters in New York.
The president has received some criticism in the past several days for not releasing photographs of Bin Laden's corpse, but his opinion poll ratings have risen in the wake of his decision to authorise the raid.
Bin Laden was shot dead on Monday when US commandos stormed his compound in the Pakistani town of Abbottabad.
American officials say the CIA had been secretly watching for months the house in Pakistan where Bin Laden was killed.
From a safe house in Abbottabad, a surveillance team used telephoto lenses and sensitive eavesdropping equipment, US reports said.