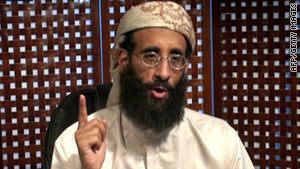 (CNN) -- A U.S. military drone fired a missile within the last two days in Yemen aimed at the U.S.-born radical cleric Anwar al-Awlaki, but the strike did not appear to have killed him, a U.S. official told CNN on Friday.
The missile was fired at an area in southern Yemen that al-Awlaki is known to have frequented, the official said.
The targeting information was not the result of information gathered from the seizure Monday of materials from Osama bin Laden's compound in Pakistan, the official said.
A U.S. defense official confirmed that the drone was under the control of the American military -- not the CIA.
Inside al Qaeda succession: Who is likely to step up
The defense official said the strike appeared to have killed two al Qaeda operatives affiliated with al-Awlaki.
Al-Awlaki was born in New Mexico and preached at a mosque in Virginia before leaving the United States for Yemen.
Early this year, a Yemeni court sentenced al-Awlaki in absentia to 10 years in prison for charges of inciting to kill foreigners.
Prosecutors charged al-Awlaki and two others with "forming an armed gang" to target foreign officers and law enforcement in November.
Western intelligence officials believe al-Awlaki is a senior leader of al Qaeda's branch in Yemen, which claimed responsibility for the attempt to ship explosives into the United States via cargo planes late last year.
U.S. officials say al-Awlaki helped recruit Umar Farouk AbdulMutallab, the Nigerian man charged with trying to blow up a transatlantic flight as it landed in Detroit, Michigan, on December 25, 2009. The militant cleric is also said to have exchanged e-mails with accused Fort Hood shooter Maj. Nidal Hassan.
Last year, YouTube removed a number of video clips featuring al-Awlaki that it found to be inciting violence.
Attorneys for al-Awlaki's father, Dr. Nasser al-Awlaki, tried to persuade U.S. District Court Judge John Bates in Washington to issue an injunction last year preventing the government from the targeted killing of al-Awlaki in Yemen.
But Bates dismissed the case in December, ruling that Nasser al-Awlaki did not have standing to sue.
In a November hearing, lawyers for the U.S. government refused to confirm that the cleric was on a secret "kill list" or that such a list even exists.
Obama's counterterrorism chief, Michael Leiter, has said al-Awlaki posed a bigger threat to the U.S. homeland than bin Laden did.
But al-Awlaki is considered a long shot to replace bin Laden as leader of al Qaeda, according to CNN terrorism analyst Paul Cruickshank.
Though al-Awlaki is a powerful charismatic preacher for bin Laden's cause and an important figure within al Qaeda in the Arabian Peninsula, he possesses none of the combat track record that al Qaeda members over the years have prized in their leaders.