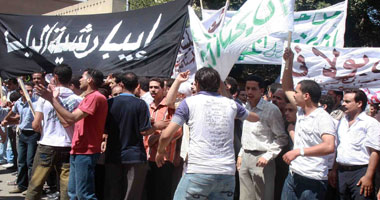 (DPA) -- Thousands of Christians flocked to Saint Mark's Cathedral in Abbasseya in Cairo Friday in response to a protest organized by Salafis last week in front of the church. The conservative Islamist group had gathered its members to protest for the release of the wives of two Coptic priests, who some believe have been detained by the church after allegedly converting to Islam.
There was a strong military presence at the cathedral Friday ahead of the protest.
Mina Salib, one of the protesters, told DPA that "Christians all over Egypt were deeply disturbed by last Friday's protest and came to express their anger and assert their defense of the Cathedral against any attacks."
Mina added that people immediately responded to the call to protect the church as result of the attack directed against Pope Shenouda.
Mina added that Salafis' earlier announcement that they would not organize a protest this week will not make Copts back down from gathering to protect the pope and the church.
Yasser Metwaly, a member of the Coalition to Support New Muslims, asserted in statements to DPA that the coalition would not call for a Friday protest, although he said the decision was not related to the Coptic protest.
Metwaly added that the media has unfairly accused Salafis of inciting issues whose timing is at odds with the goals of the revolution. Metawly asserted that Salafis had organized up to 17 protests regarding the priests' wives prior to the revolution.
Metwaly said the matter is in the hands of the judiciary, which he said would take steps to bring back Kamilia Shehata, one of the two women allegedly detained.
Earlier this week a lawyer who said he was authorized to speak for Shehata told the media that she was proud to be a Christian and was not being detained against her will.
According to Metwaly, one of the leaders of the Supreme Council of the Armed Forces promised the Salafis that the issue would be resolved before 15 May.