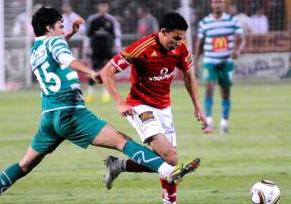 CAIRO - Egyptian giant Al-Ahly were held at home to a 2-2 draw by Military Production Friday in a dramatic Egyptian Premier League affair that gave Zamalek a golden chance to cement their place on top of the table.
Defending champions Al-Ahly are now keeping pace with leaders and arch-rivals Zamalek on 43 points.
The Whites will go three points clear should they win Saturday's game with Arab Contractors.
The Red Devils took the lead when Ahmed Fathi opened the scoring one minute past the quarter-hour mark but Mohamed Abd-Rabou 'Felix' restored parity four minutes later.
Gomaa Mashour fired Production ahead one minute from time before Abdul-Hamid Shabana brought the score level deep into injury time.
Kwabena Yaro created the first goal for Production and also won a penalty kick from which Mashour hit the visitors' second.
The match witnessed a cagey start, with both teams only creating half-chances, while the last minutes were thrilling.
After few dull minutes early in the game, Ahmed Fathi was the first to try his luck when he eluded a challenger to release a drive from inside the area near the edge to miss the target by a mile.
The combative midfielder, however, soon atoned for his inaccurate shot when Fathi hit the opener with a deflected free kick.
Shortly afterwards, former Al-Ahly man Felix canceled out his old team's slender lead when he went one-on-one with keeper Ahmed Adel, thanks to the Cairo giants' senseless defending.
Rearguard trio Sherif Abdul-Fadil, Wael Gomaa and Ahmed Al-Sayed tried all at once to nutmeg Yaro, to see an unmarked Felix released by his teammate and get his name on the scoresheet.
Al-Ahly's frontline was anything but potent, with Dominique Da Silva and Geddo nowhere near their best. Osama Hosni, who replaced the former in the second half, didn't add much to the team's firepower either.
On the other hand, Ahmed Fathi became more influential when he switched from a midfielder to a right winger after the introduction of Moataz Eno.
From the right flank, Fathi whipped in a number of precise crosses, one of which was headed by Geddo from close range but the effort was tame.
Al-Ahly piled up pressure upfront in the last 20 minutes and carved out a good number of scoring opportunities.
Geddo bamboozled challengers inside the area to send a cross that found substitute Hosni, whose looping header was palmed away by the keeper.
Hosni squandered another golden chance when he released a domesticated volley near the six-yard box, although he was unopposed.
Yaro earned the penalty after going one-on-one with the goalie and was brought down by Al-Ahly defender Al-Sayed, who received a yellow card as a result before Mashour converted the spot kick.
Abdul-Hamid Shabana leveled the score with a looping header, connecting with a Fathi corner kick, a goal that was followed by more chances from Ahly but to no avail.