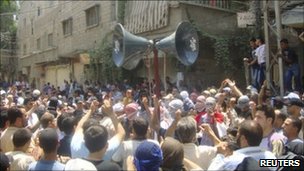 The Syrian government is holding a two-day meeting with members of the ruling Baath party and its opponents.
The government says the Damascus meeting will begin discussion of possible reforms, including multi-party elections and a new media law.
But organisers of anti-government protests say they will not attend.
Rights groups estimate that more than 1,750 people, including 350 security personnel, have been killed as the government tries to quell the protests.
The government has blamed "armed criminal gangs" for the unrest, which began in mid-March as protests swept other nations in the Middle East and North Africa.
'Syria's transition'
State media said Baath party officials, opposition figures, independents, academics and youth activists would be at this first "national dialogue".
This initial meeting is due to last two days and set up a process, the timeframe of which has not yet been established.
Vice-President Farouk al Shara opened the meeting, saying "we hope it will eventually lead to a comprehensive conference and the announcement of Syria's transition into a pluralistic, democratic state, where all citizens are equal, and can take part in deciding the future of their country".
When President Bashar al-Assad first announced the dialogue last month he said he wanted a comprehensive process that would deal with the different issues facing the Syrian people.
The credibility of the national dialogue process will depend to a large extent on which opposition figures participate, says the BBC's Owen Bennett-Jones in Beirut.
International journalists have been denied access to Syria.
Organisers of the anti-government protest movement in Syria gave the slogan No Dialogue Friday to the demonstrations two days ago.
Hundreds of thousands of people turned up for an anti-government protest in the central city of Hama on Friday, activists said, despite moves by security forces to quell demonstrations.
At least 14 people were reportedly killed on Friday in protests around the country, including six in a Damascus suburb.