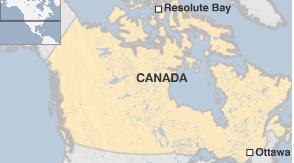 A Boeing 737 charter jet has crashed in Canada's Arctic region, killing 12 people and injuring three others.The First Air flight was travelling from Yellowknife to Resolute Bay, when it came down not far from its destination.
The Royal Canadian Mounted Police said 15 people had been on board the flight, including four crew members.
Canadian troops are currently in the area on operational exercises and were able to assist in the rescue effort.
The plane crashed shortly before 1300 local time (1800 GMT) on Saturday, local police said.
Witnesses said the plane crashed into a small hill near Resolute Bay's airport, according to the Associated Press news agency.
Police did not provide any details on the condition of the three survivors. The cause of the crash is being investigated.
On its website, First Air says it serves the cargo and travel needs of remote communities in Canada's Arctic.