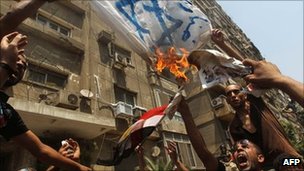 Thousands of Egyptians have rallied outside the Israeli embassy in Cairo for a second day over the deaths of five Egyptian policemen.
One demonstrator climbed the building, took down the Israeli flag and replaced it with an Egyptian flag.
Israel earlier expressed "regrets" over the incident on Thursday.
It happened on the Israeli-Egyptian border as Israeli troops pursued suspected militants who had fired shots into Israel, killing eight.
In response, Israel has carried out a series of air strikes on targets in the Gaza Strip, killing at least 15 people.
Palestinian militants have fired more than 20 rockets into Israel since Saturday night.
The Cairo-based Arab League is to hold a meeting on Sunday to discuss the crisis.
In the latest violence, a rocket killed one person and injured at least four in the Israeli city of Beersheba on Saturday.
Israeli sources identified it as a Grad rocket, adding that two children were slightly injured when Grads hit another town, Ofakim.
Hamas militants confirmed they had fired Grad missiles at Ofakim, in retaliation for Israeli attacks, AFP news agency reports. There was no immediate comment on the Beersheba attack.
'Not enough'
More than 1,000 Egyptians protested outside the Israeli embassy late on Saturday night.
They demanded the immediate expulsion of the Israeli envoy from the country.
Military police stood outside the embassy, but did not intervene when one protester pulled down the Israeli flag.
The protests continued as Cairo was considering its ambassador from Israel.
Earlier on Saturday, Israeli Defence Minister Ehud Barak said he "regrets" the deaths of police officers on the Sinai Peninsula.
Without confirming Israeli forces had killed the policemen, Mr Barak said he had ordered a joint inquiry to be held with the Egyptian army.
But the Egyptian government said Israel's response so far had not been enough.
The violence began on Thursday when gunmen attacked Israeli civilian buses near the Red Sea resort of Eilat, killing eight people.
Egyptian officials say Israeli forces chased the suspected militants across the border, and a number of people were killed - including the policemen.
Tensions between Israel and Egypt have escalated sharply, the BBC's Yolande Knell reports from Jerusalem.
Their 30-year-old peace treaty was already being tested after the long-time Egyptian leader, Hosni Mubarak, was forced from office earlier this year, our correspondent says.
Under Mr Mubarak, ties between the two nations had been stable after a history of conflict.
But Mr Mubarak's removal has sparked fears among Israeli officials that a less amenable government could take charge in Cairo.
And correspondents say the Sinai desert region of Egypt has become increasingly lawless since Mr Mubarak was ousted, with a rise in militant activity inspired by al-Qaeda.