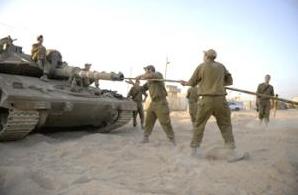 CAIRO - Rockets fired from Gaza early Sunday landed across the border in Egypt but caused no casualties, state television reported.
"Several rockets from the Gaza Strip landed this morning in Egyptian territory in the region west of the Rafah terminal, without causing casualties," the television reported.
A security official confirmed that rockets had landed in Egypt, but said they could have been fired by mistake.
"It seems they were directed at Israel," the source said on condition of anonymity.
Tensions in and around the Gaza Strip have soared since Thursday when militants staged a series of bloody shooting attacks in the Negev desert, killing eight Israelis and prompting a wave of bloody tit-for-tat exchanges.
Fifteen Palestinians have been killed, nine of them militants, and 47 injured in Israeli strikes on Gaza, while one Israeli has been killed and dozens injured in a barrage of more than 100 rockets and mortars fired on cities and towns in the south.