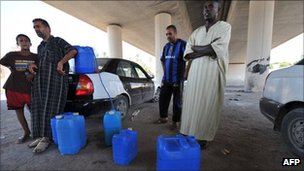 Fugitive Libyan leader Col Muammar Gaddafi is ready to begin talks to transfer power, US media has been told.
The spokesman told the Associated Press news agency negotiations would be led by Col Gaddafi's son, Saadi. He also said Col Gaddafi was still in Libya.
Rebels say desperately-needed fuel and water supplies should begin arriving in Tripoli on Sunday.
Meanwhile, more than 50 charred bodies have been found in a burnt-out warehouse south of Tripoli.
Residents of the district of Salah al-Din said they were civilians who had been executed on Tuesday by members of a brigade commanded by Col Gaddafi's son, Khamis, before they abandoned a nearby military base.
Human Rights Watch says it has evidence that pro-Gaddafi forces killed at least 17 prisoners and carried out "suspected arbitrary executions of dozens of civilians, including professionals" in the days before Tripoli fell to the rebels.
On Friday, more than 200 decomposing bodies were found at an abandoned hospital in the capital's Abu Salim district. Doctors and nurses fled because of the fighting and many injured patients were left to die.
'Sea of blood'
The Associated Press news agency in New York reported that it had received a call from Col Gaddafi's spokesman Moussa Ibrahim, who said the former leader was still in Libya although he did not specify where.
Mr Ibrahim, whom AP says it identified by his voice, said Col Gaddafi had offered power transfer negotiations headed by his son, Saadi.
Early this week, CNN reported it had been in email contact with Saadi Gaddafi who confirmed his desire to negotiate a ceasefire.
"I will try to save my city Tripoli and 2 millions of people living there... otherwise Tripoli will be lost forever like Somalia," he wrote.
Without a cease-fire, Mr Gaddafi added, "Soon it will be a sea of blood."
The BBC's Jon Leyne in Libya says that unless Col Gaddafi is willing to give himself up, the offer will surely be seen as just another example of the delusional state of the former leader and his remaining followers.
Rebel fighters who now control most of the country, including the capital Tripoli, believe Col Gaddafi is still in hiding in the area.
The rebels' information minister, Mahmoud Shammam, said they were continuing to hunt for Col Gaddafi but it would not stop them from efforts to get the country back on its feet.
The focus has now moved to the urgent humanitarian situation in Tripoli, our correspondent says.
The opposition says it will start distributing 30,000 tonnes of petrol on Sunday, and provide cooking gas within the next 48 hours.
A ship carrying fresh water and diesel for the power stations is due to dock in the next couple of days.
Tripoli's main source of water - a great man-made river - has been closed by opposition forces who say they fear it has been poisoned by pro-Gaddafi forces.