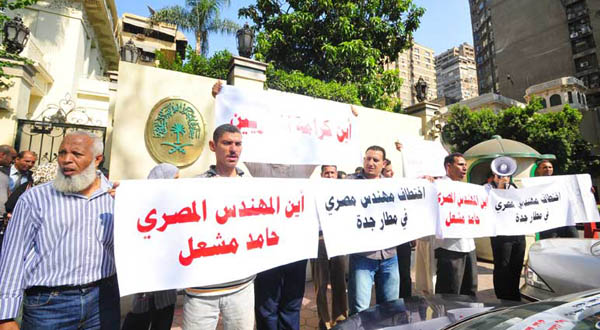 CAIRO: Protesters in front of the Saudi Arabian embassy on Sunday denounced the maltreatment of Egyptians in the Kingdom and demanded the release of Egyptian detainees, some held without charge, in Saudi prisons.
Protesters spoke out against what some referred to as "intentional bad treatment" of Egyptian pilgrims returning after the Umrah season in Ramadan.
The family of Hamed Meshaal, a pilgrim who was detained by Jeddah airport officials in Saudi, told Daily News Egypt that Saudi authorities claimed that he had an issue with passport control before arresting him.
His colleague, Hoda El-Husseiny, who was at the protest, told DNE that he was supposed to return to Egypt on August 29.
"But he was held in the airport for hours before being told that he would be sent to [Saudi capital] Riyadh. We haven't heard from him since," said El-Husseiny.
She explained that his family inquired about him in Jeddah airport but to no avail.
"We then decided to resort to the Egyptian foreign ministry and the public prosecutor's office but no one did anything to help. They told us 'we'll call you back'," said El-Husseiny.
She added that Meshaal was a political detainee in Egypt and that he was released three years ago, without offering further details about the circumstances or length of his detention.
Daily News Egypt could not independently confirm her allegations.
The sister of Ahmad Mohammed Said, however, was there to protest what she called the three-year detenion of her brother.
"He was arrested and detained without being charged with any crime or facing trial," Hemmat Said told DNE. "We have not seen him in three years, but he is allowed to call home every 15 days."
Said explained that he worked in the field of alternative medicine when he was arrested and his computer confiscated.
"Although we contacted the Saudi embassy and the foreign ministry, no one told us anything. Even his lawyer cannot reach him," she said.
Protesters hung banners saying "Egyptian dignity on Egyptian land", while others demanded the release of detainees and the expulsion of the Saudi ambassador to Egypt.
Riot police, military police and armored vehicles surrounded the embassy, but no clashes occurred between them and the protesters.
Protesters attempted to deliver a list of names of detainees and a written statement to the embassy personnel but it was unclear if they had succeeded by press time.
Activists had created a Facebook page setting the time and date for the protest dubbed: "No to the humiliation of Egyptians."
The gathering was a reaction to the maltreatment of returning Egyptian pilgrims last week, who complained of the humiliating treatment of airport staff and security.
Pilgrim Soheir Mohammed Hassan told DNE: "We were stuck in the boarding gate for 38 hours straight without food or water. There were babies and elderly people stuck there too."
The Saudi ambassador to Egypt Ahmed Kattan, however, told Egyptian state TV last week that thousands of Egyptian pilgrims were stranded in the airport because of booking problems.
"Egyptians working in the Kingdom who wished to return to Egypt for Eid vacation represent only a few thousand of the 600,000 returning Egyptians, which means that huge numbers remained in Saudi after performing Umrah before Ramadan and did not confirm their booking on time but wished to board their flights randomly," the the ambassador said last Thursday.
Hassan disagreed.
"The ambassador is wrong. No one goes through to the gate unless everything is cleared," she said. "I'm not complaining about slow airport procedures. Why did they send us to the gate and make us wait for 38 hours?"