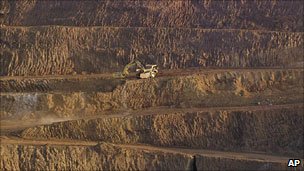 A former minister in India's southern state of Karnataka has been arrested in connection with a mining scandal.
G Janardhana Reddy, who is also a mining businessman, had been named in an anti-corruption report that alleged the scam cost the exchequer more than $3bn (£1.8bn) between 2006 and 2010.
Federal investigators also held BV Srinivasa Reddy, the head of a mining company owned by the former minister, in connection with the alleged scam.
Both have denied any wrongdoing.
India's federal investigating agency, the Central Bureau of Investigation (CBI), has charged the two with forgery, and violation of forest and mining laws.
Last month, the chief minister of Karnataka BS Yeddyurappa of India's main opposition Bharatiya Janata Party (BJP), quit after he was indicted in the scandal.
Ten federal agents took G Janardhana Reddy from his home in Bellary district early on Monday.
Mr Reddy is a prominent mining baron, and served as the tourism and infrastructure minister in the BJP-run government in the state.
Correspondents say illegal mining has been rife for years in Karnataka. The state produces about 45 million tonnes of iron ore a year and exports more than half of it to China.
An ombudsman report on mining in Karnataka has found that the promoters of privately owned mining companies in the Bellary region - where most of the mines are located - paid off politicians, and then joined politics themselves, rising to positions of power in the state government.