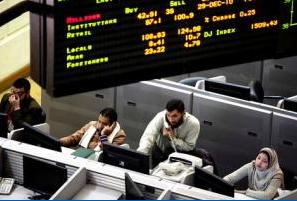 CAIRO - Egypt's main indexes dipped on Wednesday on local and non-Arabs sell-offs, traders said. Locals and non-Arabs made net sell-offs worth LE15.7 million and LE36.5 million respectively, while Arab investors made net purchases worth LE52.2 million, according to Bourse data.
The benchmark index EGX30 slipped 0.02 to 4,727.40 points. The broader indexes EGX70 and EGX100 also fell, dipping 0.51 and 0.45 per cent to 590.40 and 873.22 points respectively.
Volume totalled LE352.7 million ($59.2 million), they added.
Egypt's heavyweight Commercial International Bank (CIB) plummeted 1.09 per cent to LE28.02 per share. EFG-Hermes, the country's biggest investment bank by market value, jumped by 0.89 per cent to LE17.08 per share.
Orascom Construction Industries lost 0.11 per cent, falling to LE242.49 per share.
Orascom Telecom, the largest Arab mobile operator by subscribers, rose by 0.29 per cent to LE3.46 per share, while Mobinil leapt by 0.42 per cent to LE97.81 per share.
In the meantime, Egypt's third-biggest listed developer, SODIC, posted a first-half net loss of LE120 million, the Stock Exchange said.
The real estate firm, which does not fully recognise revenues until it delivers units, made a first-half net profit of LE50.7 million last year.