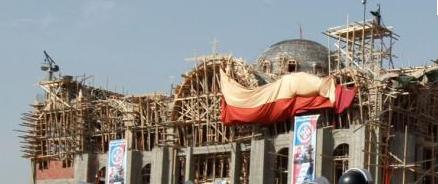 CAIRO: The military commanders of the Upper Egyptian city of Aswan held separate meetings with Muslims and Copts in Merinab village Thursday evening to avert sectarian clashes triggered by the maintenance of a church.
Muslims gathered in front of the church to prevent the construction of a dome, claiming that that the building was not a church but a guesthouse despite documents presented by Copts confirming it has been a licensed church for 80 years.
The church's Bishop Makarios Boules told Daily News Egypt in a telephone interview that he presented a maintenance request to the relevant administration at the municipal council which recommended a complete renovation of the church built with mud brick.
The report was approved by the governor who issued a permit to rebuild the church over a surface area of 280 square meters on two floors in June 2010. The reconstruction process was to begin on January 2011, but was delayed due to the events of January 25.
"When we started the reconstruction, the Muslim residents objected, claiming that the building is not a church but a guesthouse," Boules said.
The church staff presented those documents to members of the military command during the meeting which included members of the security services and city council representatives.
Heavier security protected the village after threats that the church will be attacked and the meeting with the army commanders led to nothing.
Rights group "Egyptians against Religious Discrimination" accused in a statement Salafis of inciting Muslims against Copts.
"The same group of Salafis forced Copts in the village in a meeting with security officials not to put rings or crosses on the church's walls, which encouraged them to further demand removing the church's domes even though they are included in the building permit," the statement said.
The statement further accused Salafis of besieging the village and preventing Copts from entering or leaving it or to farm their land.
The statement held SCAF accountable for the potential destruction of the church or property owned by the village's Coptic residents.
The group made five demands: the impartial implementation of the law; not supporting acts of thuggary through conflict resolution gatherings that bypass the law; protecting the church and the property of the Copts; and issuing a unified law for building houses of worship.
A Coptic eyewitness who was in the village denied in a phone call to DNE allegations that Muslims held the village under siege. He said that they only surrounded the church and that it is practically impossible to cordon off the whole village.
"Security does not want the events to escalate like what happened in Fayoum. They are trying to resolve the issue amicably," Mina Marzouk, a pharmacy employee said.
Last March a church in the village of Sol in Fayoum, South of Cairo, following clashes between Muslims and Christians triggered by a rumored affair between a Coptic man and Muslim woman.