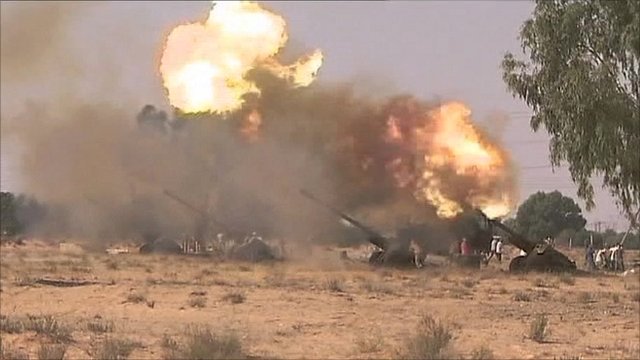 Libya's interim government forces are renewing their attack on Sirte, one of the last pro-Gaddafi strongholds.
National Transitional Council (NTC) fighters had regrouped overnight after making major gains on Saturday.
Troops entered from both west and east and, at one stage, were within 1km (0.5 miles) of the city centre, after weeks of stalemate.
Sirte is Colonel Muammar Gaddafi's birthplace, but it is not known if he is in the city.
The city has always been a hugely symbolic target for the NTC, and it seems close to being won, reports the BBC's Alastair Leithead, who is with anti-Gaddafi forces in Sirte.
Gaddafi snipers
Gunfire could be heard and black smoke was seen rising as NTC soldiers carried out their surprise pincer assault on the city on Saturday.
The advance was especially swift from the east, our correspondent says.
NTC fighters pushed far along the road towards the city centre, outpacing the protection of the artillery and rockets which had been bombarding what was left of the pro-Gaddafi positions.
NTC fighter El-Tohamy Abuzein told the Reuters news agency that pro-Gaddafi snipers were firing from mosques and other buildings.
"They're using the houses and public buildings," he said.
At least two soldiers of the interim government were killed, reports say.
NTC fighters tried to push into Sirte last weekend but were driven back by pro-Gaddafi forces entrenched in the city.
Nato aircraft hit targets in the Sirte area on Saturday, as part of the alliance's UN-mandated mission to protect civilians. Nato air strikes have played a major role in the conflict.
The NTC is also facing strong resistance in the only other remaining Gaddafi stronghold, Bani Walid to the south-east of the capital, Tripoli.
'Coming to life'
In Tripoli, explosions were heard on Saturday afternoon. Plumes of smokes were seen rising from the harbour area.
Officials later said it had been an accident at a military storage facility.
Also on Saturday, NTC chairman Mustafa Abdul Jalil said a new interim government would be announced within a week.
At the UN headquarters in New York, Libya's interim Prime Minister Mahmoud Jibril gave his first address to the General Assembly.
He said a new democratic Libya was "coming to life" and reaching out to the international community.
Mr Jibril asked member states to unlock all of Libyan assets, which had been frozen under UN sanctions, "to assure reconstruction and rehabilitation of the country".
Col Gaddafi went into hiding after Tripoli fell to NTC forces in August, six months into the uprising.
The whereabouts of the former leader - who ruled Libya for 42 years - are unknown. Many of his relatives and aides have taken refuge in neighbouring Algeria and Niger.
Meanwhile a report on the NTC's Qatar-based Libya TV criticised the Algerian authorities over an audio message broadcast by Col Gaddafi's daughter Aisha - who has fled to Algeria.
The message, in which Aisha Gaddafi criticised the new Libyan government, was broadcast on Friday by a pro-Gaddafi TV channel in Syria.
Libya TV said Aisha Gaddafi should not be allowed to make political statements. She was granted entry in Algeria for humanitarian reasons.