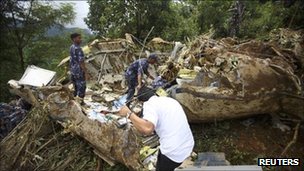 A small plane has crashed in Nepal killing all 19 people on board, officials say.
The Buddha Air plane was carrying 16 tourists to view Mount Everest and other peaks and was returning to the Nepalese capital.
One person was rescued alive and taken to hospital but died of his injuries.
Tourism Secretary Ganeshraj Joshi said there had been 10 Indians on board, two Americans, a Japanese citizen and six Nepalis, including the three-man crew.
The privately-operated Beechcraft-made 1900D aircraft lost contact with the control tower at 07:31 (02:46 GMT) local time.
The cause of the crash is still being investigated.
Local TV stations reported that witnesses saw flames coming from the plane just before it went down in foggy weather in Godavari, several kilometres from Kathmandu.
One eyewitness said the plane had hit the roof of a house in Bisankunarayan village before breaking up.
Police spokesman Binod Singh told Reuters that all the bodies had been recovered by ground search teams but that bad weather had prevented helicopters from landing.
"Once the helicopters land, we'll bring all bodies to Kathmandu and take them to the Teaching Hospital for post-mortem," he said.
Aviation accidents involving small aircraft are not uncommon in mountainous Nepal.
Last December, all 22 people travelling in a small passenger plane were killed when it crashed east of Kathmandu.
In August 2010, a plane heading for the Everest region crashed in bad weather killing all 14 people on board, including four Americans, a Japanese national and a British national.