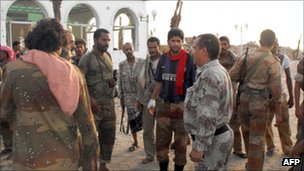 About 30 soldiers have been killed after an air strike by Yemeni warplanes in the south of the country, local officials and medics said, though the government has denied the reports.
The bombing on Saturday evening hit 119th brigade troops near Zinjibar in restive Abyan province and was followed by attacks by militants, reports say.
It is unclear how many died in the actual bombing, or if it was an error.
However, Yemeni TV said no such air strike had taken place.
Reports say the 119th brigade has joined a rebellion against President Ali Abdullah Saleh.
The militants, allegedly linked to al-Qaeda, have exploited the chaos brought by months of anti-government protests to step up activities in the area.
The army is fighting to regain lost territory and took Zinjibar back from the militants last month.
At least 26 troops and militants died in fighting in the area on Saturday.
Opposition groups say Yemen's government has played up the al-Qaeda threat in an effort to boost international support.
Sanaa gunfire
Local residents told the BBC the plane had hit an abandoned school where the troops were taking shelter, and medical sources at a hospital in the province said they had received a number of dead bodies.
A military official told AFP that militants later attacked the base and "killed even more soldiers".
The Red Crescent confirmed that 30 had died but was unable to say how they were killed.
Violence raging in the south has sparked fears of a humanitarian crisis in the Gulf Arab republic, which has been on the brink of civil war since some military units and tribal groups joined anti-government protests in recent months.
Protesters rallied in Sanaa on Sunday to demand the removal of President Saleh, who has refused to step down despite international pressure. Hundreds of people have been killed since protests began in January.
There were also reports of gunfire near the base of rebel Gen Ali Mohsen.
Mr Saleh returned to the country more than a week ago after months of treatment in Saudi Arabia for injuries sustained when his residence was bombed.
The latest incident in the south comes days after the killing of US-born Islamist cleric Anwar al-Awlaki by a suspected US drone in the east of the country.
Seen as a key figure in al-Qaeda in the Arabian Peninsula, Awlaki had been on the run in Yemen since December 2007.