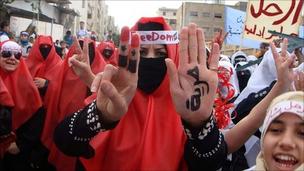 Syrian opposition groups say they have formed united common front to challenge President Bashar al-Assad.
After a two-day meeting in Turkey, leaders said they had agreed on the aims and structure of the Syrian National Council (SNC), first announced last month.
Its aim was to bring about a new, democratic Syria and was open to all citizens, they added.
Meanwhile, government troops have retaken the central town of Rastan.
The town of 40,000, in the restive province of Homs, has seen days of fierce fighting between Mr Assad's forces and army defectors who refused to fire on protesters.
At least 2,700 people are believed to have been killed in six months of protests against Mr Assad, who has refused to step down.
'United direction'
Chairman Burhan Ghalioun, a France-based academic, said the council had succeeded in uniting opponents of Mr Assad both in and outside of Syria.
"The Syrian National Council reunites the forces of the opposition and the peaceful revolution," he told AFP news agency.
"The council rejects any outside interference that undermines the sovereignty of the Syrian people," Mr Ghalioun said.
The BBC's Owen Bennett-Jones, in Lebanon, says the opposition knows it has to provide a credible, alternative, national leadership, but has so far found it difficult to create an organisation that could bring together the various strands of opinion opposing the regime.
It remains to be seen whether they have now created an organisation that will remain cohesive, our correspondent adds.
Mr Ghalioun was named last month as chair of the council, which has Islamist and nationalist supporters and includes the Local Coordination Committees, which organises activists on the ground.
The board also includes Bassma Kodmani as spokeswoman, Mohammed Riyad al-Shaqfa of the Muslim Brotherhood, and representatives of the so-called Damascus Declaration for reform.
The council, which is to elect a president, will hold a general assembly of 190 members next month, Ms Kodmani said.
It will have a 29-strong general secretariat representing seven Syrian opposition factions.
Mr Ghalioun said the SNC would allow "a united direction to face up to the daily massacres of civilians by the regime, especially in Rastan."
'Retreat'
On Sunday, activists and state TV said government troops now had full control of Rastan, 160km (100 miles) north of Damascus.
Activists said the government had sent in 250 tanks and armoured vehicles in an attempt to suppress the revolt, and that 50 of those vehicles left on Sunday.
"Many houses have been destroyed there and the humanitarian situation is very bad," the UK-based Syrian Observatory for Human Rights said.
"We have information that dozens of civilians were killed and buried in the gardens of houses as the army shelled the town," it added, according to AP news agency.
Foreign journalists are restricted from operating freely in Syria and reports cannot be independent verified.
Army deserters said in a statement they had been forced to retreat.
"Because of major reinforcements and the weapons used in Rastan by Assad's gangs... we have decided to withdraw in order to better wage the struggle for liberty," the statement said.
State news agency Sana reported that "stability and calm have been restored" in the town and that life had returned to normal.