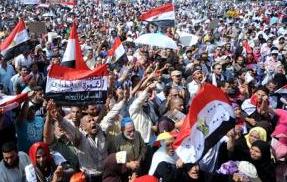 CAIRO — Egypt's military ruler has defended his testimony in the trial of ousted President Hosni Mubarak, denying that the army was ordered to shoot protesters during the uprising earlier this year.
Field Marshal Hussein Tantawi testified in Mubarak's trial on Sept. 24 under a total media blackout. Leaks of his testimony suggested that he sought to absolve Mubarak of responsibility for the killing of more than 800 protesters during the 18-day uprising that forced him to step down.
Tantawi was Mubarak's defense minister for some 20 years.
Mubarak could face the death penalty if convicted of complicity in the killings.
In comments carried by state media Sunday, Tantawi said his testimony came from a "sincere man and a soldier of 40 years."