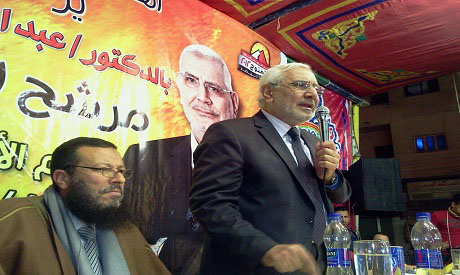 Muslim Brotherhood spokesman Mahmoud Ghozlan has warned that group members who throw their support behind presidential hopeful and former Brotherhood official Abdel Moneim Aboul-Fotouh would be dismissed from the movement, which currently controls almost half the seats in Egypt's parliament.
In a telephone interview with Al Jazeera Mubasher-Misr television channel on Saturday evening, Ghozlan said: "The group is looking for an appropriate candidate for the position [of president]. Once we determine who that will be, Brotherhood members will not be allowed to support any other candidate."
"We've already dismissed a few Brotherhood members for supporting Aboul-Fotouh's presidential campaign," he said. "The decision not to support him was an institutional one. Therefore, whoever does so will be dismissed from the group right away, since the Brotherhood doesn't apply double standards."
In the aftermath of the January 25 revolution, the Brotherhood announced that it would compete in parliamentary elections but would not nominate any of its members to the office of the presidency, and warned members from seeking the country's highest executive office.
A formal leading Brotherhood member, Aboul-Fotouh, in violation of the decision by the Brotherhood and following longstanding disagreements with the movement's leadership, announced his candidacy for president in the spring of 2011, and was subsequently expelled along with a number of his supporters.
On Sunday, Aboul-Fotouh, a liberal Islamist, reportedly obtained his official presidential nomination papers.
The first round of Egypt's first post-Mubarak presidential poll has been slated for 23 and 24 May.